Bangladesh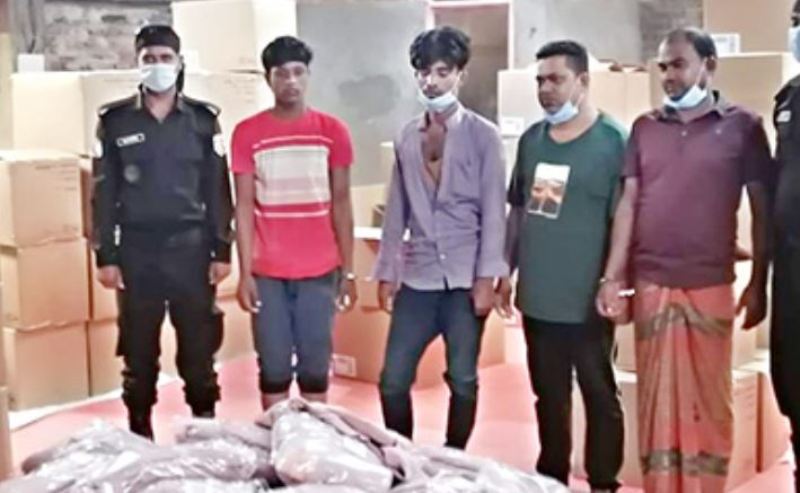 Collected
Seven members of syndicate involved in stealing of garments arrested
Dhaka, September 20: When a factory-made garment for export was transported in a truck-covered van from Dhaka to Chittagong port, an unscrupulous transport on the road and a gang of thieves cleverly removed some goods from each consignment. The cycle has long been associated with theft. As a result, the reputation of the garment industry in Bangladesh was tarnished and this promising sector was in question. Foreign buyers were turning away from importing Bangladeshi garments as they received less products than the specified number. The anger of foreign buyers was also long-standing.
Dhaka Metropolitan Detective Police (DB) has arrested seven such members of the Export Garment Thieves Syndicate. The ring initially stole goods in the vicinity of Dhaka, but the DB continued to infiltrate remote areas of the country. Recently, 28,820 garments were exported from a garment factory. After the consignment reached abroad, the buyers received 11,000 less pieces of clothing. For this reason, the foreign buyer Bangladeshi fined the factory owner USD 28,908 for compensation.
The thief was identified after reviewing the phone number of one of the covered van drivers. Later, DB's Tejgaon division raided the capital's Uttara and Comilla's Burichang police station areas and arrested them. During this time a large quantity of export garments was seized from them.
According to the intelligence police sources, the gang had been stealing export clothes for a long time. The gang used to steal goods on the way from Dhaka to Chittagong port in a covered van for the export of readymade garments. As a result, foreign buyers received less than expected, and they have been angry for years.
Many foreign buyers have recently written to the Bangladesh Garment Manufacturers and Exporters Association (BGMEA) on behalf of buyers expressing concern over multiple such incidents.
DB Chief Additional Commissioner AKM Hafeez Akhter made the remarks at a press conference at the DMP Media Center on Monday (September 20). He said Shahed alias Saeed alias Sylheti Saeed was the main ringleader of the group involved in transporting goods. There are 24 cases against Saeed in different police stations.