Bangladesh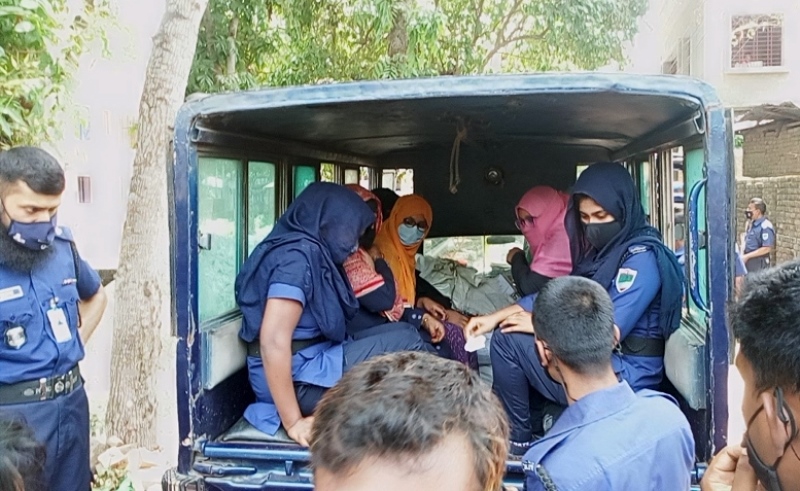 Collected
Seven women among eight Jamaat activists arrested in Meherpur
Dhaka, April 14: Meherpur Sadar Police arrested eight people, including seven women activists of Jamaat, during a secret meeting. During this time, various banned books, various books written by former Amir of Jamaat Ghulam Azam and receipts for collection of dues have been recovered from them.
They were arrested on Tuesday (April 13th) at noon in a raid on the house of Jamaat leader Moniruzzaman in the college neighborhood of Meherpur town.
The arrested women are Fatema Khatun, daughter of Samiul Islam of Chougachha village of Gangni upazila of Meherpur, Rikta Khatun, daughter of Ashraful, Ayesha Humaira, daughter of Sakhawat Hossain of Hazrahati village of Chuadanga Sadar upazila, Rabeya Khatun, daughter of Abul Hossain of Khandaker Para of Meherpur Sadar upazila. Sultana, Suraiya Begum, daughter of Md. Yasin Ali of Jaipur village in Mujibnagar upazila and Zakia Sultana, daughter of Abdur Razzak of Gaurinagar village.
Rokon Moniruzzaman of District Jamaat, the owner of the house, was also arrested in the raid.
Sadar Police Officer-in-Charge (OC) Shah Dara Khan said Jamaat-e-Islami women activists were holding a secret anti-government meeting at Moniruzzaman's house. Upon receiving the news, the police raided the place and arrested eight people.
Earlier, police cordoned off the house on the basis of secret information. At that time many people fled after sensing the presence of the police but eight people were arrested.
Upon receiving the news, Additional Superintendent of Police SM Faisal and OC Shah Dara visited the spot.
Additional Superintendent of Police SM Faisal said the eight detainees were being brought to the police station for questioning. Legal action is being taken against them.