Bangladesh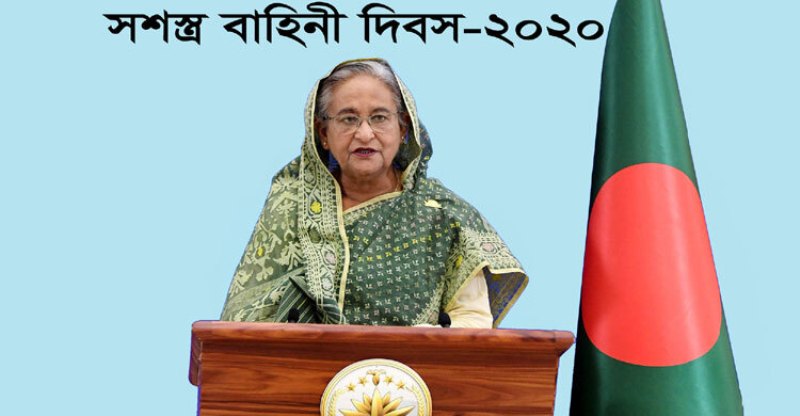 Amirul Momenin
Sheikh Hasina appreciates Bangladesh Army for its efficiency
Dhaka, November 22, 2020: Prime Minister Sheikh Hasina has said that the professionalism and efficiency of the Armed Forces has spread across the country. He made the remarks in a speech on the occasion of Armed Forces Day on Saturday. The speech of the Prime Minister was broadcast through the captured video.
Sheikh Hasina said, "On the occasion of Armed Forces Day-2020, I extend my sincere greetings to the people of the country including each member of the three forces." Due to the coronavirus epidemic, it was not possible to hold a reception in Senakunj this year as in other years due to health risks. However, in a virtual manner and following the rules of hygiene, the forces have organized the event in their own way.
The Prime Minister said that today has occupied a special glorious place in the history of our great war of independence. On this day in 1971, the fearless members of the army, navy and air force jointly launched a coordinated attack against the occupying Pakistani forces. In the face of a combined attack, the enemy forces were forced to surrender. The final victory was achieved on 16 December. The nation will forever remember the great sacrifices and heroism of the members of the Armed Forces in the war of liberation with deep respect.
He said that the small scale armed forces that were born during the great war of liberation have become a huge organization today. Soon after independence, the Father of the Nation realized the need for a well-developed and professional armed force. To that end, he formulated a defense policy in 1974.
Sheikh Hasina said Bangabandhu had set up Bangladesh Military Academy, Combined Arms School and separate training center for each corps of the army in 1972 with limited resources in the war-torn country.
He said Bangabandhu simultaneously inaugurated three bases of Bangladesh Navy in Dhaka, Chittagong and Khulna. Procured warships for the navy from India and Yugoslavia. In 1983, he added sophisticated equipment to the Air Force, including supersonic MiG-21 fighter jets, helicopters and transport aircraft, and air defense radar.
The Prime Minister said the professionalism and efficiency of the Bangladesh Armed Forces, which stands on the solid foundation of the National Defense Policy formulated by the Father of the Nation on the golden jubilee of independence today, has spread across the country.