Bangladesh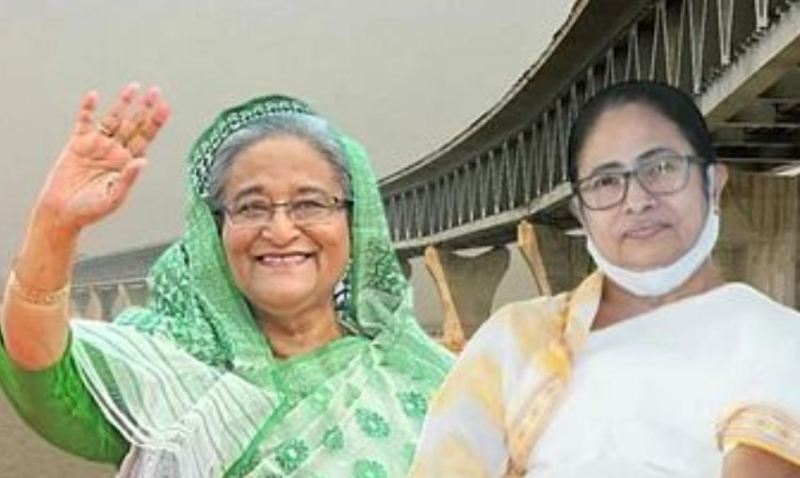 File photo/Collected
Sheikh Hasina invites Mamata Banerjee to visit Padma Bridge
Own Correspondent, Dhaka, July 20: Bangladesh Prime Minister Sheikh Hasina has sent a letter to West Bengal Chief Minister Mamata Banerjee, where she invited the Trinamool Congress supremo to visit Bangladesh, specially the recently inaugurated Padma Bridge.
On Tuesday (July 19), the invitation letter sent by the Prime Minister from Dhaka reached the office of the Chief Minister of West Bengal, Nabanna. The letter is said to have invited the founding president of the All India Trinamool Congress to visit Bangladesh and visit the recently inaugurated Padma Bridge.
This bridge will build Sonar Bangla (Golden Bengal) and strengthen West Bengal and India's ties with Bangladesh and open doors for commercial relations. The Prime Minister of Bangladesh mentioned this in the letter written to the Chief Minister. She invited Mamata to visit Bangladesh at her convenient time.
Prime Minister Sheikh Hasina is going to visit New Delhi in September. The Prime Minister of Bangladesh has expressed hope to meet Mamata Banerjee there as well.
In the letter, the Prime Minister wrote that the Padma multi-purpose bridge has been constructed with her own efforts. This bridge will strengthen the spiritual ties of West Bengal and entire India with Bangladesh. "I believe it will open new doors of possibilities in commercial relations. I invite you to visit Bangladesh at a convenient time. Hope to meet you on your visit to Delhi in September, 2022."