Bangladesh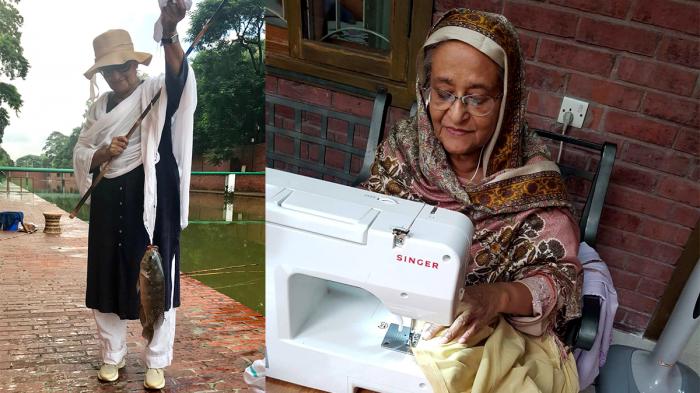 Amirul Momenin
Sheikh Hasina loves sewing, fishing when she gets free time
Dhaka, 22 November 2020: He is the head of the Bangladesh government. The responsibility of running the government of this country of 160 million people is on his shoulders.
She has to be busy in performing this duty. He found a piece of leisure in the gap. At that time she became an ordinary Bengali woman. This simple retirement makes him extraordinary.
Two pictures of Prime Minister Sheikh Hasina's general retirement were spread on social media on Saturday (November 21) afternoon. In one photo, Prime Minister Sheikh Hasina is seen fishing with a fishing rod in the lake at her official residence Ganobhaban. In another picture, she is seen sewing clothes on a sewing machine just like an ordinary Bengali woman.
Social media users are fascinated by these two pictures. State Minister for Foreign Affairs Shahriar Alam posted a picture of the Prime Minister fishing with a fishing rod on his Facebook account and wrote, "I don't have the knowledge to give captions."
Salman F Rahman, Adviser to the Prime Minister on Private Industry and Investment, posted two pictures from his verified Facebook page and wrote, 'Honorable Prime Minister Sheikh Hasina is a perfect man. He has successfully changed the destiny of 160 million Bangladeshis. One million Rohingya have given shelter to Muslims. But he still finds time to enjoy cooking, fishing and sewing. '
State Minister for Information and Communication Technology Junaid Ahmed Palak posted the two pictures on his Facebook page and wrote, "Ordinary Bengali women are our honorable Prime Minister, our leader Sheikh Hasina." As soon as he retired, he sewed clothes and went fishing in the pond of Ganobhaban. Lots of love and respect for this unique common man who has been working all day for the country after losing everything. '