Bangladesh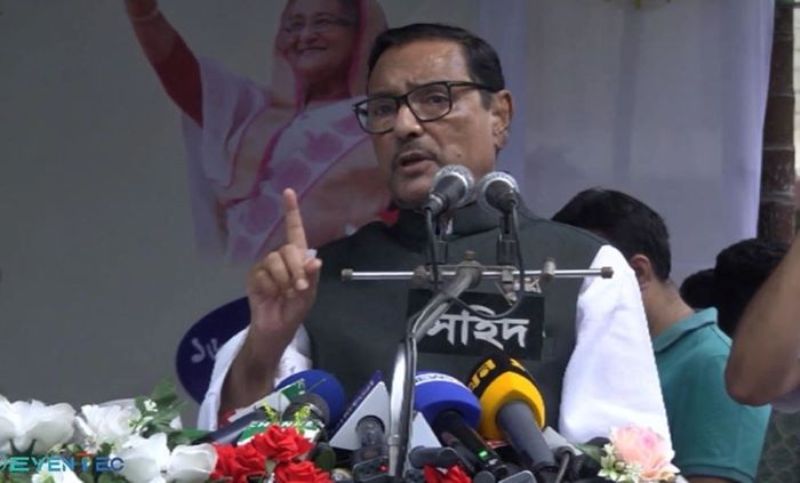 PID
Sheikh Hasina will never resign: Obaidul Quader
Own Correspondent, Dhaka, 2 September 2023: Awami League General Secretary and Road Transport and Bridges Minister Obaidul Quader said that 70 percent of the people of the country are looking forward to vote for Sheikh Hasina. Knowing that, BNP has chosen the path of foreign instruments. Visa policies and restrictions have been imposed on them.
Quader, former president of Chhatra League, said, 'Today, how many conspiracies and machinations are being played in the country and abroad for the downfall of this government. BNP is calling foreign mentors. They need caretaker government again. But this caretaker government has died by the order of the court. It will not happen again, Sheikh Hasina will never resign.' He said this in his speech as a special guest at the Chhatra League rally at Suhrawardy Udyan on Friday.
Obaidul Quader said, we have not forgotten 1/11. There will be no unusual government in this country. Now the game will be against vote theft, against communalism, against militancy, against Hawa Bhaban. He said that they (BNP) had daydreamed that they would come to power on December 10. Sheikh Hasina is not there, she has seen that she has run away. So the movement began. That movement has now gone to Golap Bagh. Fell into the hole. Now they do not even march; The funeral has begun. So wearing black clothes went down the street.
Commenting that BNP leaders and workers are suffering from internal combustion after seeing the development of the country, he said, they thought that the Padma Bridge would collapse. Now people go home in two hours through the bridge. So BNP is burning with internal combustion, Tarek Rahman is burning. I can't believe how this bridge happened. After that there was a metro rail in Dhaka, who did it? Sheikh Hasina, the fire will burn. They (BNP) could not do anything by themselves, what Sheikh Hasina is doing is their trouble.
He said, why are people happy with the development now? This is the suffering of their party people. Burning with pain. 100% electricity is a problem. In their time, words used to be electricity, now it is suffering. Obaidul Quader claimed that Sheikh Hasina is the most popular leader of the country in the last 48 years and said, who is the most popular leader of the country in the last 48 years after the death of Bangabandhu? Sheikh Hasina Sheikh Hasina is the most honest leader, the most efficient administrator, the most successful diplomat, the most courageous leader. People of Bangladesh have never been alone because of Sheikh Hasina. Because he returned to Bangladesh, democracy was liberated in this country. Crimes against humanity have been tried, Bangabandhu's murder has been tried.