Bangladesh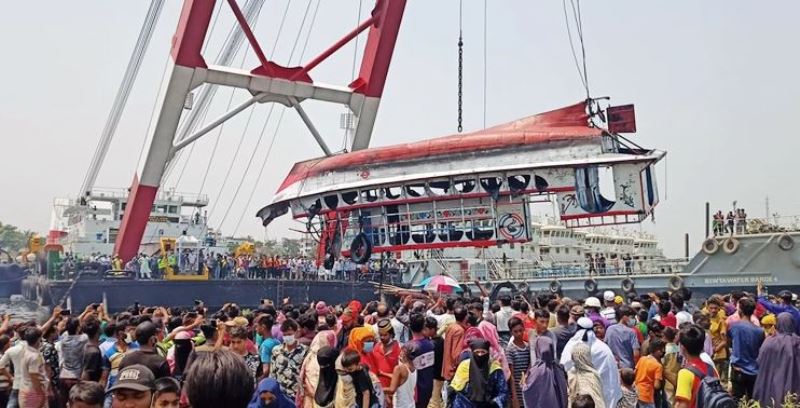 Collected
Shitlokka launch capsize: Death toll rises to 24
Dhaka, April 5: The death toll from a launch sinking in the Shitlokkha river in Narayanganj has risen to 24. Sadar Upazila Nirbahi Officer (UNO) Nahida Barik said 19 bodies were found in the launch after it was recovered at around 12.45pm on Monday. Earlier, five more bodies were recovered.
The launch named 'Sabit Al Asad' was sunk by a cargo ship in Koylaghat area of ​​Sadar upazila around 6pm on Sunday. Locals and fire service personnel recovered the bodies of five people from there at night.
One child and 15 women were found dead. The others are all men.
UNO Nahida said nine more were missing, according to a list provided by relatives. Fire service personnel are working to find them.
However, the locals are of the opinion that someone else whose relatives did not know may be missing.
The deceased have been identified as Sunita Saha, 40, wife of Haradhan Saha of Malpara area of ​​Munshiganj Sadar upazila, Sakhina Begum, 45, wife of Oliullah of North Charamsura area, Pratima Sharma, 53, wife of Pritimoy Sharma of the same area and Sauda Akter Lata (18), wife of Mithun Miah of Nayagaon Purbapara area.
The district administration has formed a seven-member investigation committee headed by Additional District Magistrate Khadija Taheri Bobby. The committee has been asked to report within five working days.
In addition, a four-member investigation committee has been formed headed by Rafiqul Islam, director of BIWTA's maritime safety and traffic management department. The committee has been asked to report within five working days.