Bangladesh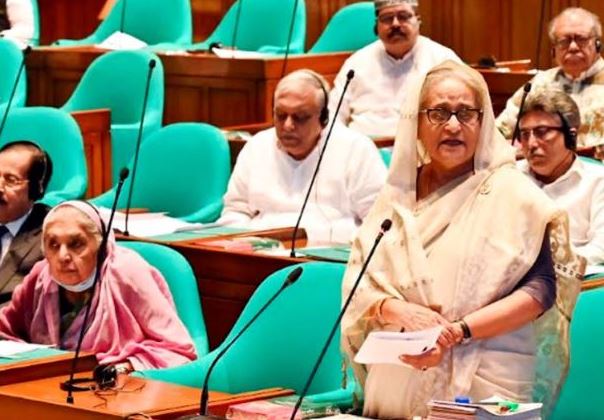 PID Bangladesh
Situation could get worse: PM Sheikh Hasina
Dhaka, 5 June 2023 : Prime Minister Sheikh Hasina has said that worldwide food shortages, inflation, increase in operating and transport costs and electricity shortages have made life unbearable for everyone.
No one can say how long this unusual situation in the world will last. Maybe the situation will get worse, she said.
She said this while participating in the discussion on the condolence motion raised in the National Parliament on Sunday (June 4).
A condolence motion was raised in the parliament on the death of ruling party member of Parliament Afsarul Amin.
Later it was adopted unanimously.
In the discussion on the condolence motion, the head of government spoke about the current global crisis.
She also mentioned that the government has taken initiatives to deal with the energy crisis.
The Prime Minister said, today the benefits of freedom are reaching people's homes.
"Socio-economic development of people has been achieved. Although Russia-Ukraine war, sanctions and counter-sanctions, global inflation, lack of fuel, not only Bangladesh, developed countries are also suffering. But there is energy crisis in various countries including Europe, America. There is load shedding or limiting power consumption," she said.
She said, "Starting from food products, the price of everything has increased. Even in developed countries, many people are losing their jobs. Such an unusual situation is going on worldwide."
"I don't know if such a situation has ever happened. Maybe after World War I. After the Second World War, there was famine and depression," she mentioned.
"The head of government said that after the coronavirus pandemic, the Russia-Ukraine war has created food shortages. Inflation, increased operational and transport costs and electricity shortages all over the world - it has made life unbearable for every human being. We are trying our best in Bangladesh," Hasina said.
Sheikh Hasina said, "We have delivered electricity to people's homes as promised. But the lack of fuel oil, coal or gas is now worldwide. Now it is very difficult to buy. It has become impossible to buy. Still our efforts continue. We have already signed agreements with Qatar and Oman. We have taken measures to import hydropower. Steps have already been taken to buy coal so that we can restart the power plants."