Bangladesh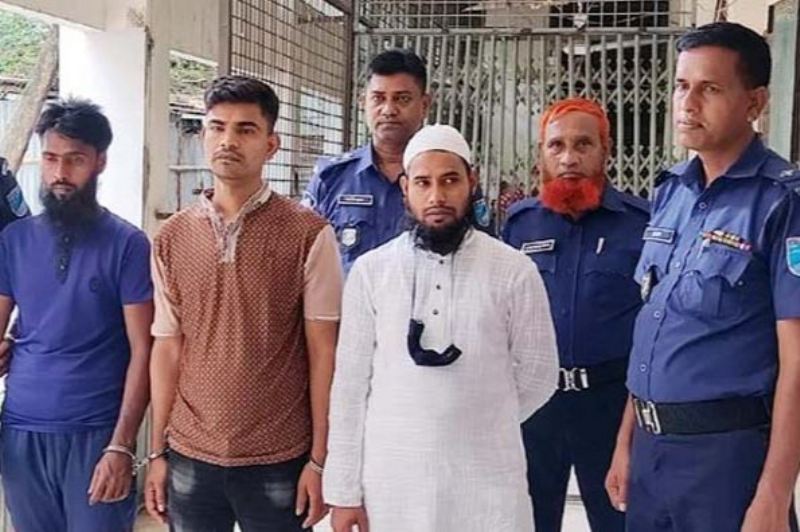 Collected
Six to be hanged for gangrape, murder of housewife in Narayanganj
Dhaka, June 6: A court has sentenced six people to death for killing a husband-wife duo after gang-raping the latter in Narayanganj. Judge Nazmul Haque Shyamal of the district's Women and Child Abuse Suppression Tribunal handed down the verdict on Monday (June 6) at noon.
The convicts are Sumon, Lokman, Shafiq, Md. Sumon, Ariful and Jamal. Among them are Sumon, Lokman and Shafiq fugitives and the rest were present in court.
According to the case sources, on the night of August 11, 2009, the accused picked up a woman from the road and raped her in Devai village of Rupganj. She was later killed and dumped in a roadside ditch. At the same time, the accused also killed the woman's husband. Their bodies were later recovered on August 16. The victim's father Anwar filed a case with the Rupganj Police Station.
Narayanganj Court Police Inspector Md Asaduzzaman said a family quarrel broke out between Abdur Rahman and his wife Khadija Begum of Ganganagar village in Rupganj upazila. Abdur Rahman hired the six men mentioned to kill his wife Khadija for Tk 10,000. On August 11, 2009, the killers picked up Khadija from the road and took her to a secluded place. There, after raping her, they killed her and hid her body in a pond.
The police official said that after the killers did not pay the rent of Tk 10,000, they killed Abdur Rahman at the same time and hid his body in the pond. When a case was filed in this incident, Rupganj police investigated the case for a long time and submitted a chargesheet to the court. The court announced the verdict today after taking the testimony of 12 people.
The court's Public Prosecutor (PP) Advocate Humayun Kabir confirmed the matter. He said the court had sentenced six people to death for killing their husband and wife. Three people were present in the court when the verdict was announced and the other three were absconding.