Bangladesh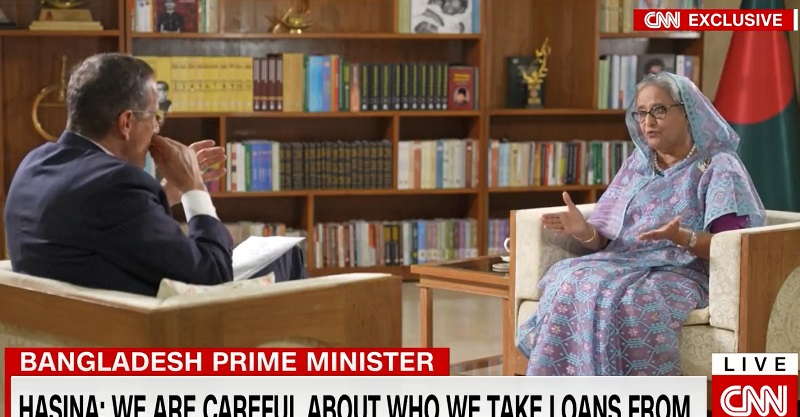 Image credit: CNN
Strong action by world community needed to stop war: Sheikh Hasina to CNN
Dhaka, March 22: Prime Minister Sheikh Hasina said that the world community needs to take strong steps to stop the Russia-Ukraine war. This ongoing war has become the cause of the suffering of common people worldwide. She said this in a special interview given to the US-based television network CNN.
The first part of the interview was reportedly aired on Tuesday morning, March 21, and the second part at night. In an interview conducted by famous journalist and CNN Business Editor Richard Quest, Sheikh Hasina answered many questions about the war in Ukraine, Bangladesh's relationship with China and the trap created by China through lending and the Rohingya issue.
In the interview, the Prime Minister said, "I think the common people are suffering because of the war. The world community should come forward to stop this war (in Ukraine)."
Richard talks to Bangladeshi Prime Minister Sheikh Hasina -- and asks why she hasn't taken a stand against Russia's war in Ukraine. pic.twitter.com/AEpKGfg0h4

— Quest Means Business (@questCNN) March 20, 2023
When she was asked about Bangladesh's stand in the war, Sheikh Hasina said, "We believe in a peaceful solution to any problem. Any dispute can be resolved through dialogue. We never support any kind of aggression or any conflict."
She called on the international community to make efforts to stop the war in Ukraine. "We believe in peaceful solutions. Bangladesh's foreign policy is very clear, 'friendship with all, enmity with none.' We are following it, so when we see any human rights violation or attack, we must oppose it.''
The Prime Minister said, "I believe that every country has the right to live (independently) in its own territory and protect its own territory."
Responding to the question that the United States thinks that China is getting closer to Bangladesh, Sheikh Hasina said, "Relations are getting closer with every country that supports the development of Bangladesh. I am with those who are supporting our development."
She said, "China is Bangladesh's development partner. They are investing and doing some construction, that's the point. We are not dependent on anyone."
In response to another question about taking loans from China, the Prime Minister said, "We are very careful in taking loans. We borrow mostly from institutions like World Bank and Asian Development Bank. Our debt from China is very little. It is not like Sri Lanka or anyone else."
When asked what Bangladesh needs from the international community to deal with the Rohingya crisis, she said, "We have called on the international community to pressure Myanmar to take the Rohingyas back to their country."