Bangladesh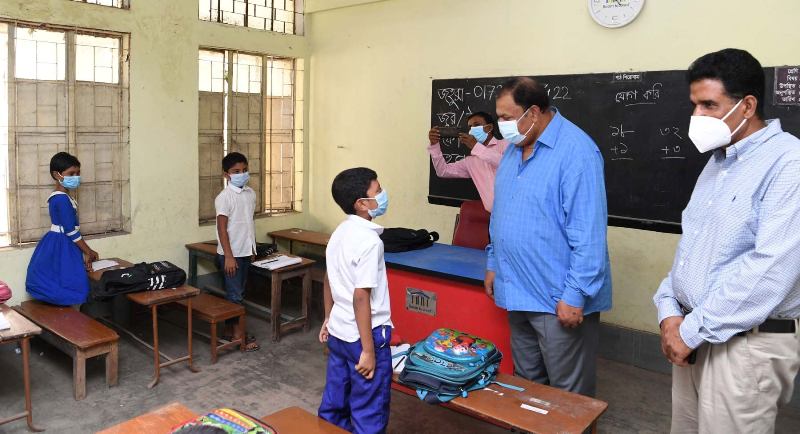 PID
Student attendance low on first day of school reopening
Dhaka, September 13: With limited classes starting in government primary schools, the attendance of junior students on the first day of school opening has been a bit low. Although the student attendance was low, the teachers and students took part in the class activities in compliance with the hygiene rules and maintaining social distancing. If the overall situation is favorable, the number of primary classes may be increased after one week.
Due to the Corona epidemic, the educational institution has reopened after a long period of about 17 months. At this time the student of one class has risen to the next class. Due to this their teachers, classmates and classes have changed.
On Sunday (September 12), various government primary schools in the capital were visited and it was seen that the children were sitting in the designated seats wearing full-time masks. Suddenly, in this unfamiliar situation, a kind of discomfort has been seen in some of them. Occasionally, many take off their masks, leave their seats, and try to approach acquaintances or classmates.
On the other hand, teachers repeatedly warned these students and asked them to sit in their respective seats. The average attendance of students in government primary schools on the first day of school reopening was around 50 percent. In some cases, teachers telephoned the parents of absent students to try to find out why they did not attend school.
According to a teacher, on the first day, teachers and students got acquainted with each other, discussed awareness on Covid-19 situation, and Bengali and Mathematics were taught. Students have also been taught to read to see if they remember it. The students forgot the name of the school as the class was closed for many days and they could not even recognize the teachers. An introductory class was organised.