Bangladesh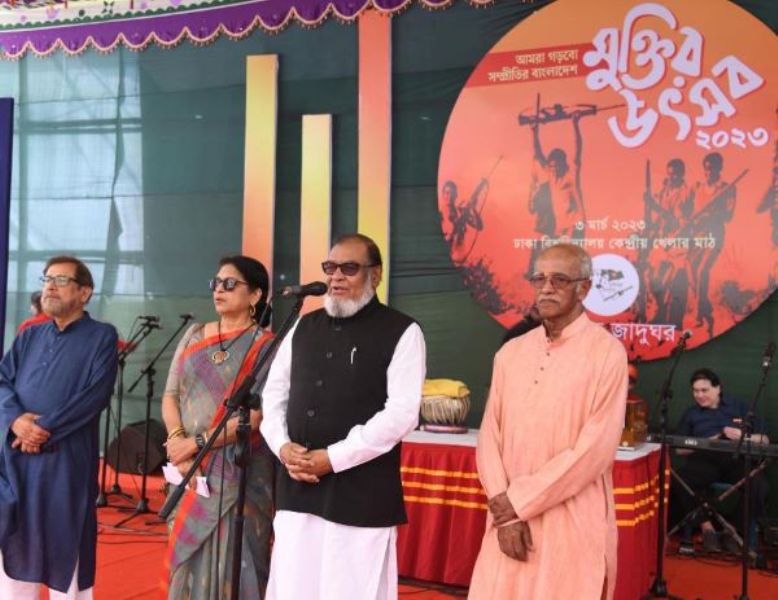 PID
Students vow to build a country free of corruption and discrimination while taking part in 'Muktir Utsav'
Dhaka, March 4: "I will be vocal against corruption, I will try to eliminate discrimination and stay away from drugs, I will devote myself to building a science-minded enlightened country and I will reach out to the backward people" - thousands of students have taken this oath wearing red and green caps on their heads.
On Friday (March 3), they took the oath at the 'Muktir Utsav' under the education program of the Liberation Museum at Dhaka University's central playground.
The festival started with flag hoisting at 9 am. After the National Anthem was performed by artists of Chhayanaut, the students were read the oath by Bir Prateek Major General (retd) Jamil D Ahsan, Trustee of Liberation War Museum Dr. Sarwar Ali, Trustee Sara Zaker and Musician Dalia Nausheen.
Liberation War Affairs Minister AKM Mozammel Haque was the chief guest on the occasion. Members of Parliament and cultural figures Asaduzzaman Noor and Mofidul Haque delivered greetings.
AKM Mozammel Haque said, "Based on the spirit of the liberation war that we talk about, this country will be a democratic country. Here the fundamental rights of every person will be guaranteed. Everyone will follow the same religion. This country will be non-communal. Where people of all religions will live together. . That was the constitution of 72'. But after the assassination of Bangabandhu, the country went in the opposite direction."
Addressing the present students, he said, "You have to work to build Bangabandhu's golden Bangladesh. This festival is being held with that conviction."
Freedom fighters, family members of martyrs, artists-literateurs and thousands of students participated in various events including song, dance, discussion, raffle draw throughout the day.