Bangladesh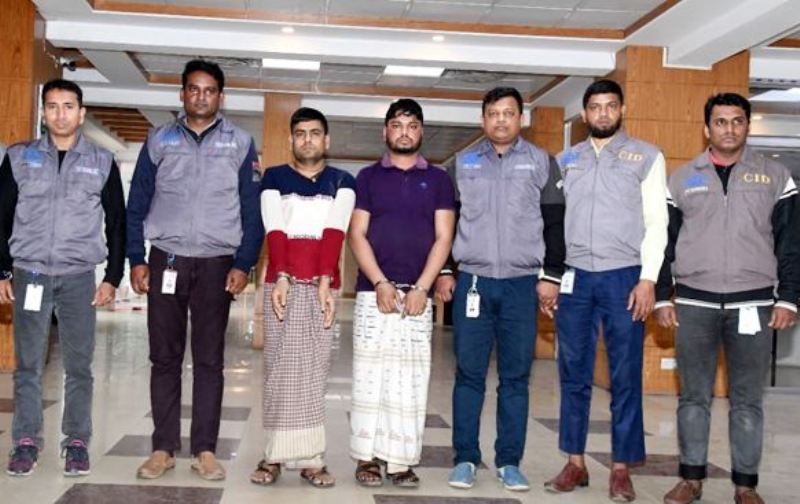 Collected
Sunamganj housewife killed for threatening to reveal rape: CID
Dhaka, February 19: The Criminal Investigation Department (CID) of the police has unveiled the body of Shahnaz Parveen Jotsna, 34, wife of an expatriate, inside a pharmacy in Jagannathpur, Sunamganj. CID has arrested three people including Mulhota involved in the incident.
According to the CID, Jotsna had been suffering from physical problems for some time. When local pharmacy owner Jitesh Chandra told Gop about the problem, he told him to go to the pharmacy. After that, when he went to the pharmacy, Jotsna was raped in turn. After telling everyone about the rape, Jitesh and three others suffocated and killed Jotsna and then cut the body into six pieces with a fruit knife.
This information was given by Special Superintendent of Police Mukta Dhar of CID's LIC branch at a press conference held at CID headquarters on Saturday (February 19). The arrested are Jitesh Chandra Gop (30), Anjit Chandra Gop (38) and Asit Chandra Gop (36).
He said that on February 16, police recovered six pieces of body of Shahnaz Parveen Jotsna from a drug store called Avi Medical Hall in Barrister Mirza Abdul Matin Market, Jagannathpur Municipal Point, Sunamganj.
Mukta Dhar said that Shahnaz Parveen Jotsna had a good relationship with Jitesh, the owner of Avi Medical Hall, due to buying medicine. Jotsna had been suffering from a physical problem for some time. On February 17, Jitesh went to their house to measure Jotsna's mother's pressure. When Jotsna informs Jitesh about his secret illness, he tells him to go to the pharmacy.
When Jotsna went to Jitesh's shop that afternoon, she was told to wait because there were customers in the shop. Meanwhile, when night falls, Jotsna's wanted to go home. Then Jitesh gave a sleeping pill to Jotsna in that pharmacy, after which she fell asleep. Jitesh then planned to rape her along with his two accomplices Anjit Chandra Gop and Asit Gop. Then they drank energy drinks and raped Jotsna.
The CID official added that Jotsna threatened to reveal it to her family. Jitesh and his accomplices then strangled Jotsna with a pillow wrapped around her neck and killed her.
The deceased Jotsna had been living in her home in the municipal town since 2013 with his two sons, a daughter, an elderly mother and siblings. Her husband is an expatriate living in Saudi Arabia.