Bangladesh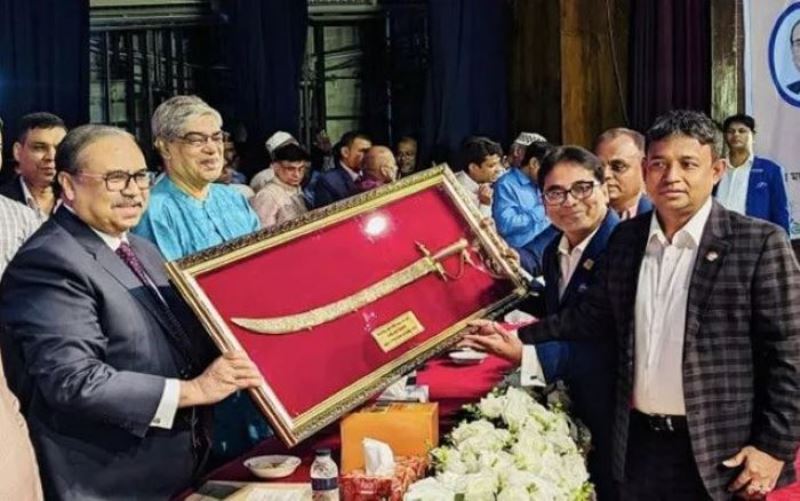 Photo: Collected
Sword gifted to newly appointed Chief Justice
Dhaka, Sept 29: General Secretary of Greater Mymensingh Samiti Dhaka and Chief Additional Police Commissioner of Dhaka Metropolitan Police (DB) Mohammad Haroon Or Rashid presented a sword to the country's 24th Chief Justice Obaidul Hasan. He gave this gift as a traditional swarak of various districts of Greater Mymensingh.
On Wednesday afternoon, he handed over the sword to the Chief Justice at a civic reception organized by the Greater Mymensingh Association, Dhaka at the National Museum at Shahbagh in the capital.
The civic reception was organized under the chairmanship of Md. Abul Kalam Azad, President of Greater Mymensingh Samiti, former Chief Secretary to the Prime Minister.
In the civic reception given to the Chief Justice, Haroon Or Rashid said, "Our pride, the newly appointed Chief Justice Obaidul Hasan is a person with personality."
He said, though the transformation of greater Mymensingh with six districts, the extent and magnitude of the imperishable context of history, art-rich life and culture is built on the same formula. Greater Mymensingh's dream journey was launched to further accelerate this alliance.
Post and Telecommunication Minister Mustafa Jabbar, State Minister for Social Welfare Md. Ashraf Ali Khan Khosru, former Information Minister Abul Kalam Azad and others also spoke on the occasion.