Bangladesh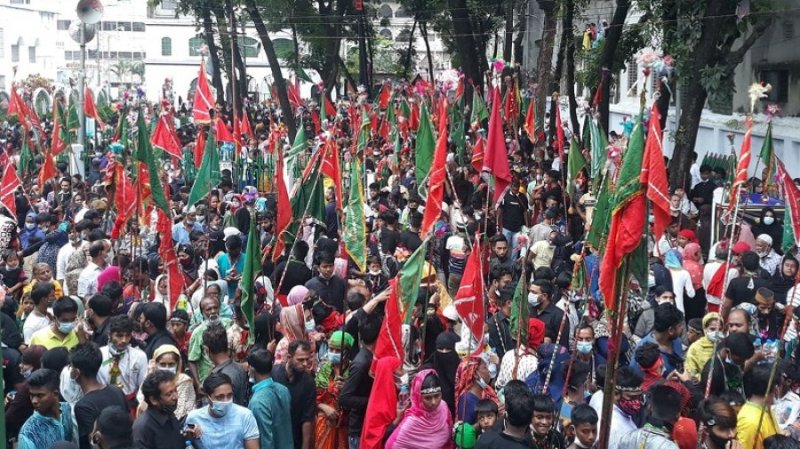 Collected
Tajia: Shia community flout Covid-19 guidelines, take out procession in Dhaka on holy Ashura
Dhaka, August 20: On a day the Covid-19 death toll across Bangladesh crossed 25,000, the Shia Muslims flouted coronavirus guidelines set by the government and took out the Tajia procession in Old Dhaka's Husseini Dalan to observe the holy Ashura.
Hundreds of people marched inside Hosseini Dalan around 10:00 am on Friday (August 20). Many people came out of the procession and marched on the road. Although the police stopped in some places, they ignored them and the procession came out. They marched in Chawkbazar, Lalbagh and Azimpur areas.
In Islamic history, the tenth day of Muharram, the first month of the Hijri year, is called the day of Ashura. On this day in the year 61 AH, Imam Husain, the beloved grandson of the Holy Prophet (SAW), was ruthlessly martyred on the desert of Karbala. Remembering this mourning and remembrance, Muslims around the world observe Ashura as a day of abandonment and mourning. The Shia community in the country held various programs to commemorate the first ten days of the month of Muharram. However, due to the ongoing coronavirus pandemic, it is being organised on a limited scale.
According to the Ministry of Religious Affairs, in the current context of the country, the restrictions imposed on all religious places of worship will remain in force. At the same time, on the occasion of Holy Muharram, all kinds of Tazia processions were banned. However, all the necessary religious rituals have been allowed, following proper hygiene and social distance.
Although there were instructions to follow hygiene and social distance, they were ignored. There were many in the Husseini Dalan without masks and the crowd was uncontrollable.