Bangladesh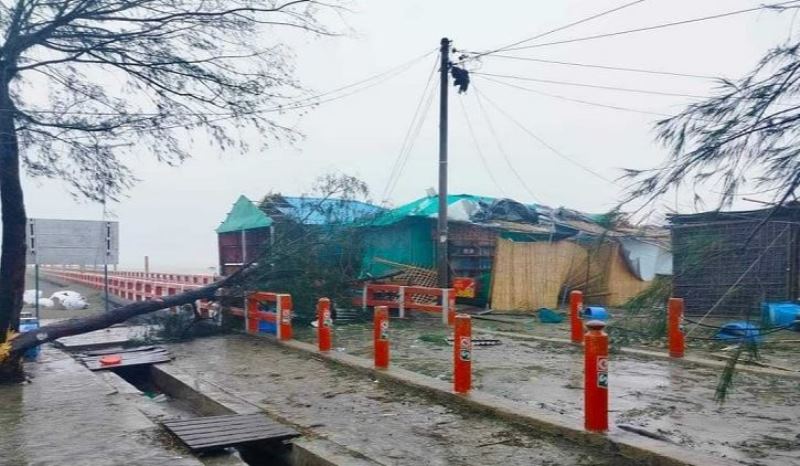 Photo: Collected
Teknaf, Saint-Martin badly hit by severe cyclone Mocha
Dhaka, May 15: Severe cyclone Mocha hit Cox's Bazar and Myanmar coast around 3 pm on Sunday with strong winds. Teknaf and St. Martin were heavily damaged by the cyclone.
According to reports, many trees have fallen in the isolated island of St. Martin, Teknaf Sadar, Municipal area, Sabrang, Dailpara, Jadimura. Roofs and sheds of houses have been blown away. People were seen removing trees from roads in different areas. Volunteers took people from different areas of the city to shelters.
Teknaf Upazila Nirbahi Officer (UNO) Kamruzzaman said, "Teknaf and Saint Martin have already received news of extensive damage in the storm. Trees and houses were destroyed in some areas. I have received news that several people were injured in two areas."
Chairman of Saint Martin Union Parishad Mujibur Rahman said that the wind speed was very high in Saint Martin during the storm. Many houses were blown away.
Abdul Maleq, a local resident of Saint Martin, said that the wind speed is getting stronger and stronger. Sea water is also blown away by wind. Picks up the wet soil of the beach. Tin, canopies, wood and bamboo of people's houses have been blown away. Big trees and coconut trees are twisting. Shops were blown away.
Cyclone Mocha has hit Myanmar hard. Due to which the risk for Bangladesh is reduced a lot. Mohammad Azizur Rahman, director of the Directorate of Meteorology in Dhaka, said that the cyclone Mokha passed through the Sittwe region of southern Myanmar at a distance of 50-60 km from Teknaf.
Azizur Rahman said that the main part of the cyclone passed through Myanmar. The regions of Bangladesh including Teknaf, Cox's Bazar were somewhat risk-free.