Bangladesh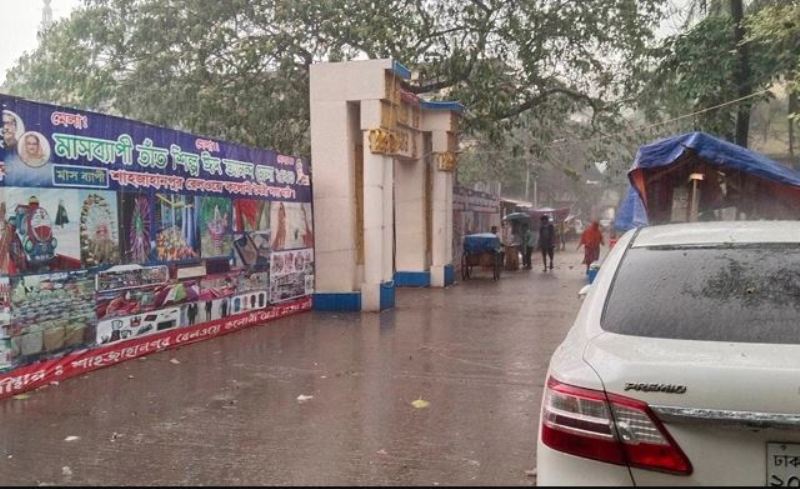 Collected
Temperature dips as Dhaka gets rain of relief
Dhaka, April 22: A continuous heatwave has been sweeping across the country for quite some time. In intense heat, people's life is miserable. Finally, the much-desired rain has arrived in the capital. The rain started at 5:15 pm on Friday in Farmgate, Banglamotor, Press Club, Paltan, Motijheel areas of the capital. The storm started after 5:30 pm.
Meanwhile, life has returned to the capital after a long period of rain. Residents of the capital feel that the intense heat will reduce to some extent due to the rain. Moshiur Zarif, a private employee who was stuck in the press club area due to rain, said that it was difficult to survive due to the heat for the last few days. Finally, it has rained in Dhaka. This time the heat will decrease to some extent.
He also said that many members of the family have fallen ill due to the intense heat. It is difficult to travel by bus or train in summer, so this time he decided to spend Eid in Dhaka. It is raining at this time, which is a blessing for the residents of the capital.
On the other hand, the sidewalk shopkeepers were in some trouble when it rained just before Iftar. After the rain, they were seen running around with iftar items. Besides, due to lack of pre-preparation, many people's products were seen getting wet in the rain.
Abdul Hamid, meteorologist of Meteorological Department told Dhaka Post, 10 mm of rain was recorded in Sylhet today. After a prolonged heat wave, the relief rains will not last long. It may rain in a few rounds from tonight till tomorrow. Temperatures will start to drop even if the duration of rain is not long.