Bangladesh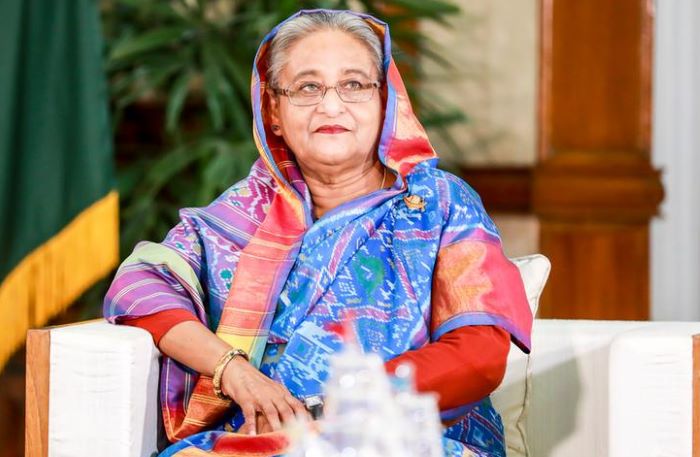 PID Bangladesh
The 6-point outline of independence was drawn up with public support: Prime Minister
Dhaka, 7 June 2023 : Prime Minister Sheikh Hasina said that the 6-point movement announced by the Father of the Nation got a new dimension on 7 June 1966.
On that day, the police and the then EPR fired on the unarmed crowd during the strike called by Awami League to collect the 6 points of the Bengali liberation certificate.
11 people including Manu Mia, Abul Hossain, Safiq and Shamsul Haque were martyred in Dhaka and Narayanganj. On this day, I pay deep respect to the memory of all the martyrs of the freedom struggle, including the historic June 7. He said these things in a speech given on the occasion of the historic 6-point day on Wednesday, June 7.
Sheikh Hasina said today, June 7, is the historic six-point day. On this day in 1966, the important chapter of the 6-point movement declared by the greatest Bengali of all time, Father of the Nation Bangabandhu Sheikh Mujibur Rahman began.
The day is unforgettable and significant in the history of Bangladesh's freedom struggle.
She said, Bangabandhu Sheikh Mujibur Rahman raised 6 point demands on behalf of the people of East Bengal in the national conference called by all the opposition political parties of East and West Pakistan on February 5, 1966 in Lahore against the despotic Ayub government in order to get rid of the Pakistani rule-exploitation-deprivation.
Later, Bangabandhu returned to Dhaka on February 11 and started a nationwide campaign in favor of 6 points and went to the remote areas of Bengal to highlight the need for 6 points in front of the people. The people of Bengal from all walks of life gave spontaneous support to the 6 points. 6 points became the liberation charter of the exploited and deprived people of East Bengal.
Frightened by the widespread public support for the Six Points and Bangabandhu's popularity, the dictatorial government of Ayub Khan's military junta arrested Bangabandhu on May 8, 1966 and sent him to prison. Angry people took to the streets in protest.
The Prime Minister said that the outline of independence was drawn up with the unwavering support of the people of this country to the 6 points under the leadership of Bangabandhu Sheikh Mujibur Rahman, the undisputed leader of Bengali.
The seeds of independence sprouted through the Dafa movement. In the continuation of the 6-point movement-struggle, the Bengali independence movement turned into a freedom struggle. The people's uprising of 1969 started on the path of the 6-point based 11-point movement, the people of Bengal won an absolute majority in the general elections of 1970. Through the victory in the Great Liberation War of 1971, independent-sovereign Bangladesh was born on the world map. 6 points are not only the liberation charter of the Bengali nation, but the source of inspiration for the liberation movement of oppressed people all over the world.