Bangladesh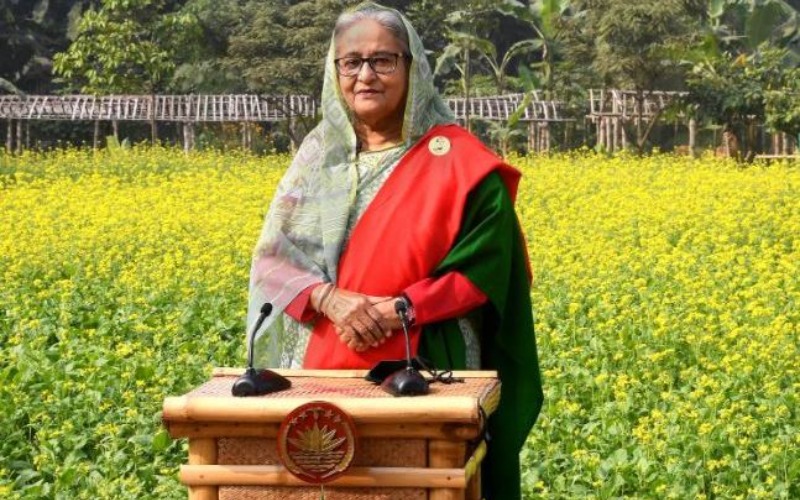 Collected
The allies of the defeated trying to confuse Muslims: Prime Minister Hasina
Dhaka, December 16: Prime Minister Sheikh Hasina said that the allies of those defeated in the 1971 Liberation War are trying to confuse the Muslims in Bangladesh with fabricated statements.
"A section of the defeated power of 1971 has recently taken to the field to confuse ordinary devout Muslims with fabricated statements. They want to create unrest in the society. The Father of the Nation said in 1972 that religion should not be used as a tool of politics. But the allies of the defeated power are dreaming of taking the country back to the state it was 50 years ago. They have the audacity to frown at the government with political help," the Prime Minister said in her address to the nation on Tuesday (December 15) evening.
The speech was broadcast live on various media, including Bangladesh Television.
Sheikh Hasina said, "The father of the nation was not only a pure Muslim, he also observed religious observances with devotion. Who else like him could understand the mind-thinking-aspirations of the people of Bengal! When he drafted the constitution, he reflected the hopes and aspirations of the people and adopted Bengali nationalism, secularism, democracy and socialism as the four basic principles of running the state."
"But sadly the anti-liberation governments of the post-1975 liberation war took steps to perpetuate their seats in state power by squandering the values ​​acquired through the liberation war. The military junta stabbed the constitution in the bayonet. By carrying out a series of state-sponsored propaganda, distorting history, trying to tarnish the image of the Awami League and the members of the Bangabandhu family."
She further said, "People of Bangladesh are religious, not fanatical. Don't use religion as a tool of politics. Everyone has the right to practice their religion. Bangladesh is a country of communal harmony. Muslims, Hindus, Buddhists, Christians - this country has become independent in exchange for the blood of people of all religions and castes.