Bangladesh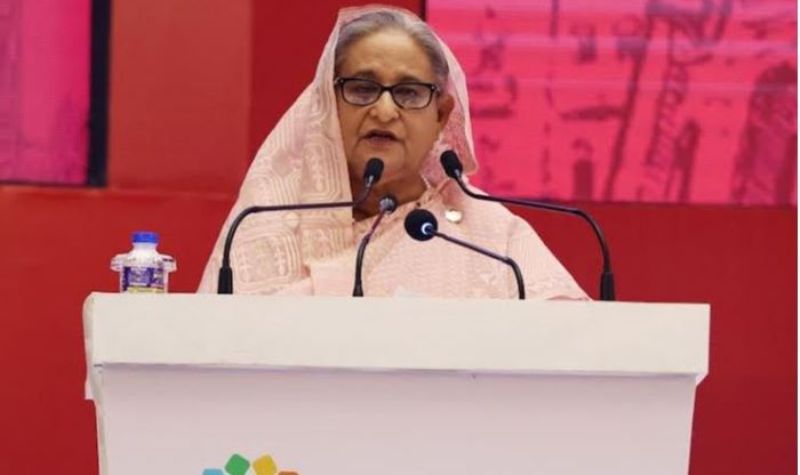 PID
The country was in the grip of recession during BNP's tenure: Prime Minister
Own correspondent, Dhaka, 13 September 2023: Prime Minister Sheikh Hasina said that Awami League formed the government in 1996. "We continued to take Bangladesh forward with deliberate and planning. Bangladesh started to turn around. But after the BNP-Jamaat came to power in 2001, all the development work stopped. The five years of BNP-Jamaat and the subsequent years of the military government, the economy of Bangladesh was in the grip of recession."
She said this at the inauguration of the program titled 'Commonwealth Investment and Trade Forum 2023' and the presentation of the Commonwealth Bangabandhu Sheikh Mujibur Rahman Green Investment Award at the Bangabandhu International Conference Center on Wednesday, September 13.
The Prime Minister said, "The poverty rate has decreased from 41.5 to 18.6 percent in the last 15 years. The average life expectancy of the people of Bangladesh has increased from 59 years to 73 years. During this time, our per capita income has increased to 2,765 US dollars. We have gone from underdeveloped to qualify as a developing country."
The Prime Minister said, "After winning the elections in 2009, we took the country forward in a well-planned manner. We focused on building the country with short, medium and long plans. The democratic environment, political stability, continuity of government and planned development programs have contributed to the rapid social development of Bangladesh."
She said, "Bangladesh's economy is now one of the five fastest growing economies in the world. In terms of GDP, we are 35th in the world. We expect Bangladesh to emerge as the 20th GDP country by 2037."
Sheikh Hasina said, "The average growth rate of Bangladesh's GDP was more than seven percent in the decade before the corona epidemic hit. Even when the economic growth of many countries was negative during the corona epidemic, our growth rate was still 3.51 percent. This is proof of the resilience of our economy. In 2006, the GDP was only USD 60 billion. Today it has increased by eight-quarters to USD 465 billion. Not only GDP growth, Bangladesh has achieved visible multi-dimensional inclusive development in the last one and half century. Despite being one of the most densely populated countries in the world, we are food We have achieved self-sufficiency in production. Bangladesh is now one of the leading countries in the world in the production of rice, vegetables, fruits, fish, meat and eggs."
Commonwealth Investment and Trade Forum Chairman Lord Marland and Prime Minister's Private Industry and Investment Adviser Salman F Rahman also spoke on the occasion.