Bangladesh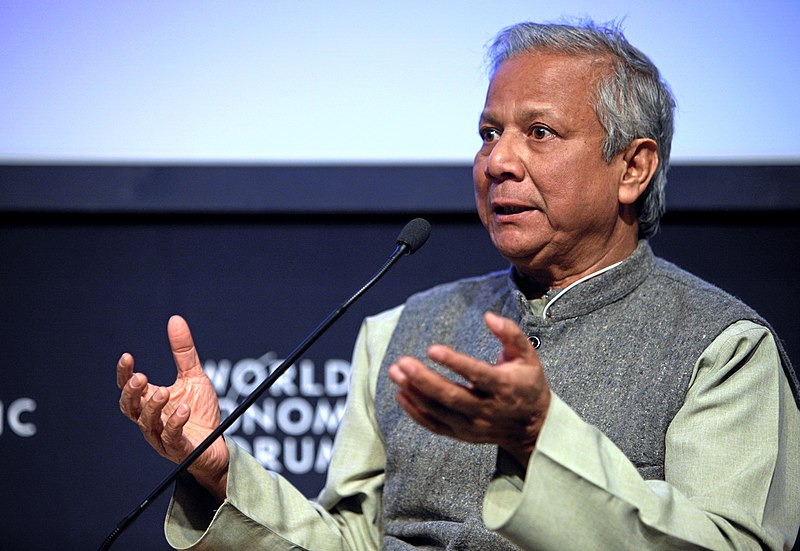 wikipedia commons
The responsibility of robbery in Grameen Telecom can't be escaped by Yunus: DB chief
Dhaka, 28 August 2022 : With the connivance of the Grameen Telecom authorities and some leaders of the Grameen Telecom Employees Union, Tk 26 crore 22 lakhs have been looted from the common employees.
"Dr. Yunus can not avoid the responsibility. We will take action based on what comes out of the investigation," Dhaka Metropolitan Police Additional Police Commissioner (DB Chief) Mohammad Haroon Or Rashid said.
In the case of embezzlement of money through fraud and fraud with the employees of Grameen Telecom and Telecom Union.
Another person named Mainul Islam (39) was arrested by Gulshan Division of Dhaka Metropolitan Police.
Arrested Mainul Grameen Telecom Sramik-Karmachari Union Vice President.
He was arrested from Magbari area of ​​Comilla's Sadar police station on Wednesday (August 24).
At that time, two mobile phones, a laptop and a check of Tk 1 crore 70 lakh were seized from him.
In a press conference at DMP Media Center on Sunday (August 28), Additional Commissioner Harun Or Rashid said that the President of Grameen Telecom Employees Union, Md. Kamruzzaman and General Secretary Feroz Mahmud Hasan were arrested. They have given a statement under section 164 in the court. Earlier on July 4, Grameen Telecom employee and Finance Secretary of Telecom Union Mohammad Aktaruzzaman filed a complaint at Mirpur Model Police Station.
According to the complaint, the contractual employment of the workers employed at various times in the Grameen Telecom Company is being continuously renewed without making them permanent. Besides, according to the Labor Act, 5 percent of the annual dividend is supposed to be given to Works Profit Participation Fund, Sramik Kalyan Fund and Sramik Kalyan Foundation in the ratio of 80:10:10, but the authorities did not give the dividend due to various excuses including 'employees are not permanent' and 'company is unprofitable'.
99 workers were illegally fired from the company last year when the employees made demands on these issues. Due to these reasons, the workers of the company filed 190 cases in the labor court. But the cases were dropped with the connivance of some leaders of the company and labor unions by giving false assurances to the workers.