Bangladesh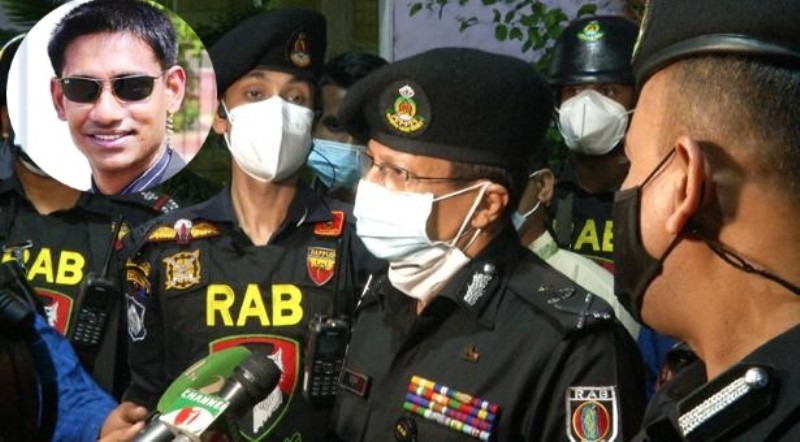 Collected
There has been positive progress in the Sinha murder case: RAB
Dhaka, October 24: There has been positive progress in the murder case of retired Army Major Sinha Md. Rashed Khan, RAB Director General (DG) Chowdhury Abdullah Al Mamun said, adding he hoped the case would be settled soon.
Abdullah Al Mamun made the remarks in response to a question from reporters after inspecting the temple on the occasion of Durga Puja at the Ramna Kali Temple in the capital on Friday (October 23rd) and the security arrangements of the RAB.
"We hope the case (Sinha murder) will be settled soon," he said. "There has been positive progress in the investigation of the case. It would not be appropriate to say more in the interest of investigation."
Sinha was shot dead by Liakat, the inspector in charge of the Baharchhara police investigation center at the Shamlapur checkpost on Marine Drive in Cox's Bazar on the night of July 31.
A murder case was filed against nine policemen, including the then (later dismissed) Officer-in-Charge (OC) of Teknaf Police Station Pradeep Kumar Das.
Seven policemen among the accused surrendered. Later, three witnesses in the case filed by the police, three members of APBn and seven constables including another constable were included as accused.
RAB is investigating the case. Investigators interrogated the accused on remand. At the end of remand, three members of APBn and Inspector Liaquat and SI Nandadulal made a confessional statement under Section 164.
At the same time, three civilians also testified under section 164. OC (dismissed) Pradeep Kumar Das did not testify.
Earlier, during his visit to Ramna Kali Mandir, Chowdhury Abdullah Al Mamun said, "Wherever there are Hindus, Muslims, Buddhists and Christians in Bangladesh, we all observe our own rituals and religious ceremonies."
"However, especially everyone celebrates this religious ritual Durga Puja in a festive atmosphere. In this festival, many people, irrespective of religion and caste, come to visit and celebrate. Not only because they are Hindus, many people enjoy Durga Puja."
The RAB DG said, "Many changes have taken place due to the global epidemic. Even then we celebrated a lot. Ashura has been celebrated before. Now weddings or social events are also going on to a limited extent. Durga Puja is going on now."
This time the Durga Puja celebration committee of Ramna Kali Mandir has set a rare example that they are distributing one lakh masks for protection.