Bangladesh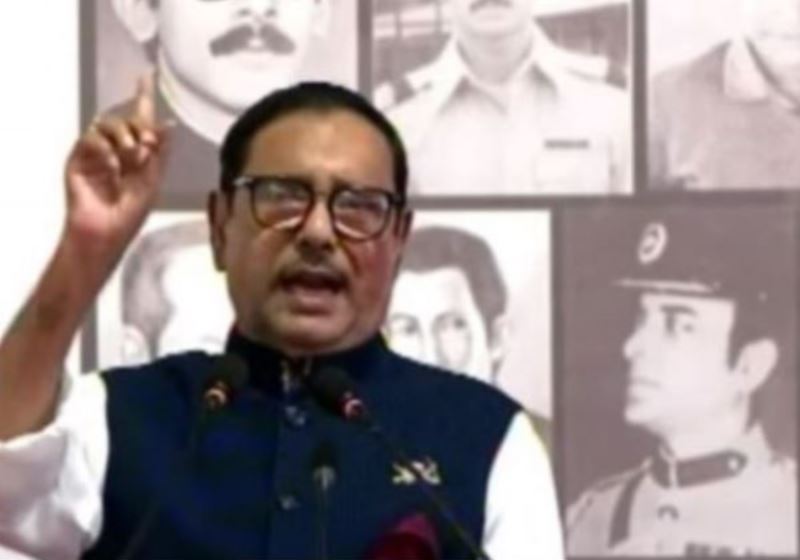 Photo: Collected
There is conspiracy to bring abnormal govt: Obaidul Quader
Dhaka, Sept 2: Alleging that there is a conspiracy to bring an abnormal government like One Eleven, Awami League General Secretary and Road Transport Minister Obaidul Quader said, "We have not forgotten One Eleven. Again there is a conspiracy to bring abnormal government. We will not allow that unusual government to be on the soil of Bengal."
Obaidul Quader said these at a student meeting organized by the Chhatra League at Suhrawardy Udyan on Friday.
He said, "How many conspiracies, how many conspiracies in the country and abroad today! They know that 70% people in this country are looking forward to vote for Sheikh Hasina. Can't beat him in the election. That is why they are plotting to remove him from power. Seeking to enforce the ban, visa policy. Sheikh Hasina's 15-year liberation struggle, the achievement of unparalleled bravery, today they are plotting to erase that achievement."
Quader said, "The World Bank went away with the slander of the thief. Proved by making it with his own money - Yes we can do."
Addressing the BNP, Awami League General Secretary said, "BNP is burning in the heart. Tarique Zia is burning. How Padma Bridge, Dhaka Metrorail were built! They will have internal combustion. Sheikh Hasina has done it, it is their internal fuel. People are happy, and this party (BNP) is unhappy. Why are people happy with Sheikh Hasina's achievements, they are dying of pain. That's why they don't want Sheikh Hasina. Foreign advisers are calling - get rid of Sheikh Hasina. Caregivers again if needed. They want to bring back to life the guardian who died on court orders."
Addressing the students, he said, "The wave of youth that has come down today should be carried with passion and spirit. Under the leadership of Sheikh Hasina, we will protect the motherland and save democracy."