Bangladesh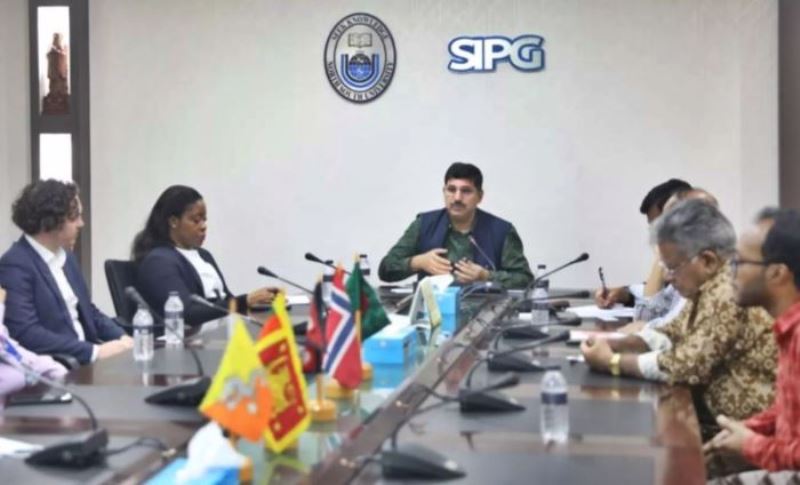 Photo: Collected
There is lack of communication between Bangladeshis and Indians: Dr. Sanjay K Bharadwaj
Dhaka, Oct 3: Dr. Sanjay K Bharadwaj, the former chairperson of the Center for South Asian Studies of India's Jawaharlal Nehru University and a professor of South Asian Studies commented that although there is a good relationship between the Bangladesh-Indian government and the civil society, the relationship between the common people is deteriorating.
Professor Bharadwaj made this comment at a seminar titled "India-Bangladesh Relations: Opportunities and Challenges" in the capital on Monday.
He said that there is constant communication between the Government of Bangladesh and the Government of India. There is a good relationship between the civil society of the two countries. But there is a lack of communication between the people of the two countries. Because of that, the relationship between Bangladesh and India is being hindered. In this regard, the improvement of diplomatic relations is necessary to create a good perception of India among the people of Bangladesh.
Professor Bharadwaj identified insufficient economic strength, bureaucratic and systematic accountability, federal and coalition politics as structural obstacles, lack of balanced political vision, uncertainty in China-US relations, etc. as major policy challenges in Bangladesh-India relations.
He said that India has changed its approach in terms of resource sharing. The country is now shifting away from bilateralism to multilateralism, unilateralism to constructive unilateralism and resource nationalism.
The seminar was organized by the Center for Peace Studies, South Asian Institute of Policy and Governance, North South University.