Bangladesh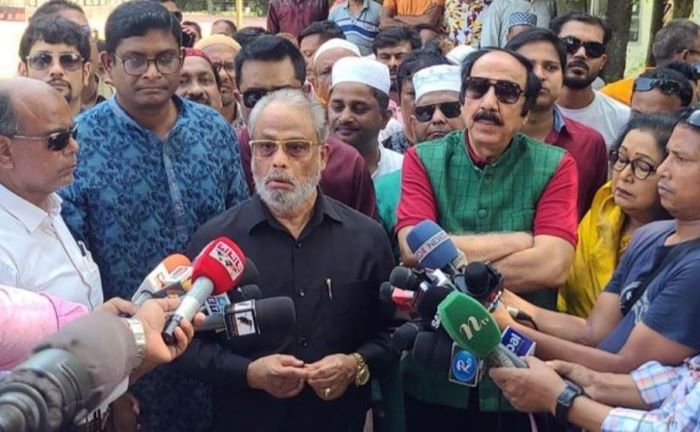 File Picture
This time I will elect in 300 seats: GM Quader
Dhaka, 17 September 2023 : Jatiya Party Chairman Gholam Mohammad (GM) Quader said his outfit will not hold elections with anyone else.
"Since the people of the north are with us, the election will be held in 300 seats. I believe the people of the north will return these seats to us. So support is needed like never before. The plow is not lost yet. Everyone has to prove it by working in the field," he said.
He said these things while addressing the chief guest at the Bi-Annual Conference of District Jatiya Party at Lalmonirhat Railway Officers Club ground on Saturday afternoon.
He also said that the country is now covered in corruption. People are suffering. The government has made all institutions ineffective. Attempts are being made to imprison journalists through cyber security laws.
They are again deceiving the people of the country by introducing the old law in a new twist. Which can never be accepted.
GM Quader said that the current government is quietly destroying democracy and introducing one-party rule. People of the country have seen Jatiya Party to give good governance.
This auspicious beginning of development has started with the National Party. It is the Jatiya Party that has pitched the roads today. Ershad Saheb's hand is done.
Lalmonirhat District Jatiya Party convener Sherifa Quader MP presided over and member secretary Zahid Hasan conducted the bi-annual conference, Jatiya Party Secretary General Bir Muktijoddha Md. Mujibul Haque Chunnu MP, Co-Chairman Syed Abu Hossain Babla MP, Presidium Member ATU Taj Rahman MP, Barrister Shamim Haider Patwari MP, Advocate Md. Rezaul Islam Bhuiyan, Major (Retd.) Rana Mohammad Sohail MP, Chairman's Advisor Panir Uddin Ahmed MP, Advocate Nurul Islam Talukder MP, Rangpur Mahanagar Jatiya Party General Secretary SM Yashir, Mustafa Salim Bengal and others.