Bangladesh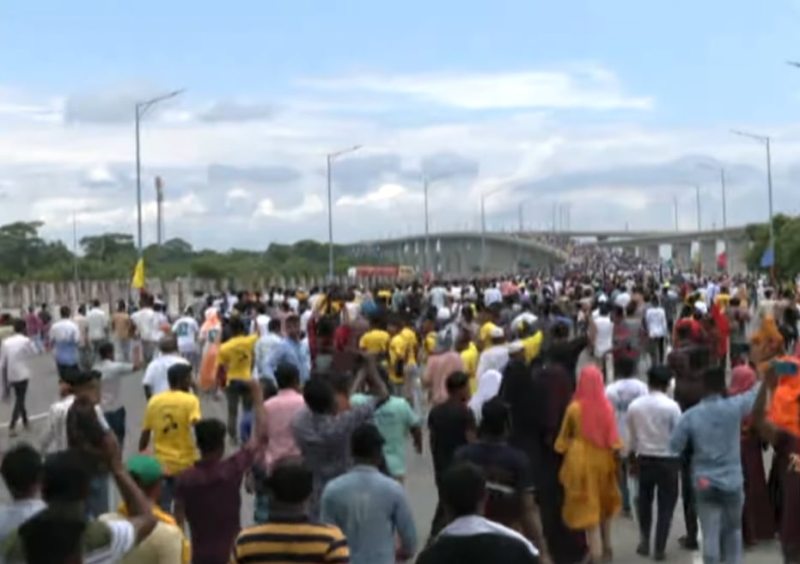 Screengrab from YouTube
Thousands flock to Padma Bridge to witness inauguration
Dhaka, June 25: Thousands of people flocked to the Padma Bridge on Saturday to bear witness to its inauguration. At this time many people climbed the Padma bridge on foot. Everyone climbed on the Padma bridge and clicked selfies and photos on mobile phones.
Some of the visitors said that they had come to click a selfie on the Padma Bridge and witness the history. A young man named Raisul said, "Padma Bridge is our pride. For a long time it was a dream to climb the Padma Bridge. Today that dream has come true. That is why we are very happy."
The Prime Minister unveiled the inaugural plaque and mural-2 adjacent to the toll plaza at the Jajira end of the Padma Bridge at 12:36 pm. Later she took part in prayers. Earlier, the Prime Minister unveiled the plaque of Padma Bridge at the Mawa end at 11:58 am. At 12:06 pm, the Prime Minister's convoy left for Jajira via the bridge. At 11:48 am, the Prime Minister paid the toll.
The Prime Minister reached Dogachhi Padma Bridge Service Area-1 in Munshiganj by helicopter at 10:00 am. From there she attended a gathering organized at the ground adjacent to the North Thana of the Padma Bridge and addressed the gathering as the chief guest. Three and a half thousand well-wishers took part in the rally. Among them were ambassadors of different countries, prominent citizens and journalists. After the rally, the Prime Minister unveiled the plaque of Padma Bridge at the end of Mawa. She later took part in the prayers.
On July 4, 2001, Prime Minister Sheikh Hasina laid the foundation stone of the dream Padma Bridge. Construction began in November 2014. The Truss, made of two-layer steel and concrete, has a four-lane road at the top and a single rail at the bottom.
The main infrastructure is built in the Padma-Brahmaputra-Meghna river basin with 42 pillars and 41 spans of 150 meters length. The length of the bridge is 6.15 km and the width is 18 m. The total cost of construction of Padma bridge is Tk 30,193.39 crore.
According to the agreement of the bridge department with the finance department of Bangladesh, the government gave a loan of Tk 29,893 crore for the construction of the bridge. The bridge authority will pay it at the rate of 1 percent interest within 35 years. China Major Bridge Engineering Construction Company Limited is the contractor for the construction of the 6.15 km dream structure.