Bangladesh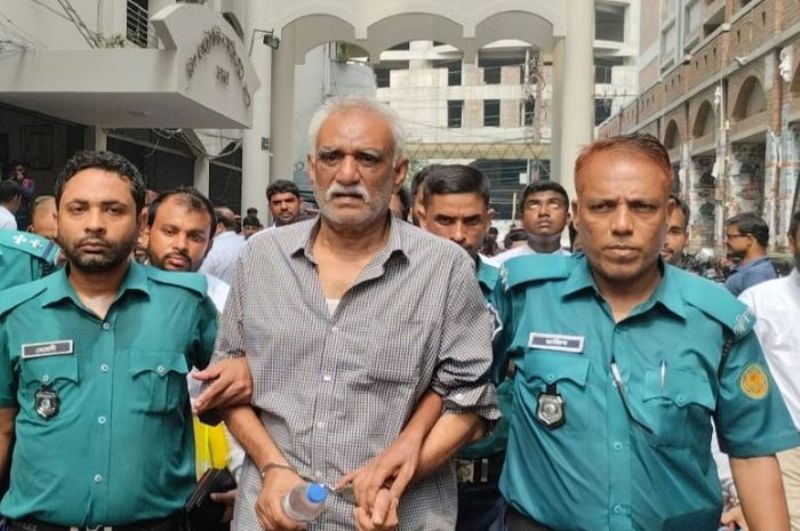 Collected
Threat to kill Prime Minister: BNP leader Chand sent to 2-day remand
Dhaka, June 7: The court granted a two-day remand to BNP leader Abu Saeed Chand of Rajshahi in the case of threatening to kill Prime Minister Sheikh Hasina. Dhaka Additional Chief Metropolitan Magistrate Hasibul Haque granted the remand after the hearing on Wednesday (June 7).
Earlier, accused Chand's lawyer Mosle Uddin Jasim and Syed Nazrul Islam applied for bail seeking cancellation of remand. Later, the court rejected the application and ordered a two-day remand.
The police produced the accused Chand in the court this morning. After that, Dhaka Metropolitan Magistrate Mahbub Ahmed granted the application to show his arrest in the case of Chawkbazar police station.
Earlier, on May 25, a Chhatra League leader named Ashikur Rahman Anu filed this case in the capital's Chawkbazar police station. Then Inspector Zakir Hossain filed a 10-day remand application showing his arrest in the anti-terror law case at Chowkbazar police station on May 28. In view of the application, the court fixed June 7 for the hearing in the presence of the accused.
In the remand application, the investigating officer of the case mentioned how the accused Abu Saeed Chand (65) publicly threatened to send the head of the People's Republic of Bangladesh government to the grave with death threats. Who is behind his statement and are the unidentified people conspiring from Bangladesh, or conspiring from abroad?
It is also said in the remand application that Chand should be remanded for 10 days for the sake of fair and impartial investigation of the case, including the identification and arrest of the mastermind of the terrorist activities plan and the identification and arrest of other unidentified absconding accused.
Abu Saeed Chand said in a speech given at the BNP rally at the Shivpur High School ground in Puthiya, Rajshahi on May 19, that there are no more 27 points or 10 points. Sheikh Hasina should be sent to the graveyard. Rajshahi police arrested Chand on May 25 after his statement. After that, he was remanded and interrogated twice in this case.