Bangladesh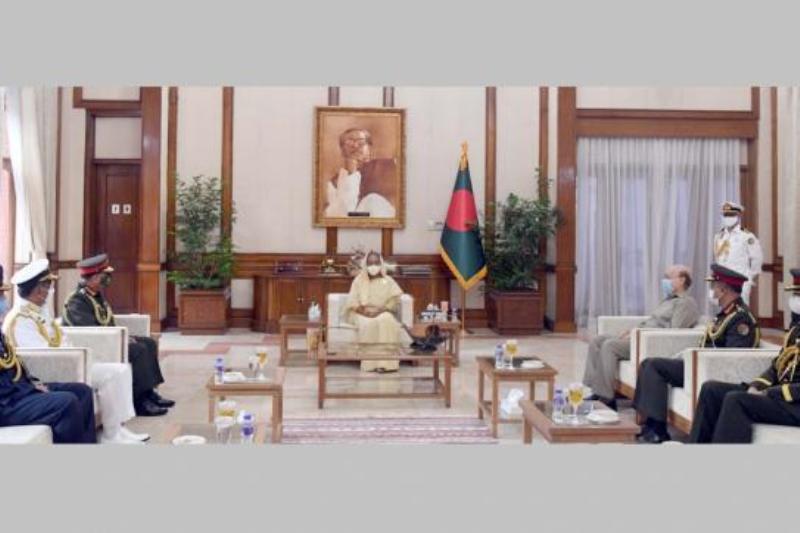 Amirul Momenin
Three Army chief meet Sheikh Hasina
Dhaka, November 22, 2020: The three Chiefs of Army Staff paid a courtesy call on Prime Minister Sheikh Hasina at her official residence Ganobhaban on Saturday on the occasion of 'Armed Forces Day-2020'. The Prime Minister greeted all the members of the Armed Forces and their family members on the occasion.
Sheikh Hasina said since its inception in 1971, the Armed Forces have made commendable contribution in dealing with various natural calamities and are also working to tackle the ongoing Kovid-19 outbreak.
Mentioning that the Bangladesh Armed Forces has a glorious role to play in various natural calamities including corona response, the Prime Minister thanked every member of the Bangladesh Armed Forces for standing by the people of Corona.
The Prime Minister, who is in charge of the Ministry of Defense, thanked the members of the Bangladesh Armed Forces, especially the Army, Air Force and Navy, for their service and humanitarian work in relocating various emergency patients or returnees after the Bangladesh Corona disaster.
Referring to the various steps taken by the government for the development of the three forces, the Prime Minister said the government has taken all necessary steps in the last 12 years to develop the Bangladesh Armed Forces capable of meeting the geopolitical and military challenges of the 21st century.
The Prime Minister said the government is implementing activities to restructure and modernize the three forces in the light of 'Forces Goal 2030' following the defense policy of the Father of the Nation.
The Chiefs of the three Armed Forces thanked Prime Minister Sheikh Hasina for her role in the development of the Bangladesh Armed Forces during the last 12 years of the Awami League government.
Chief of Army Staff General Aziz Ahmed, Chief of Naval Staff Admiral M Shaheen Iqbal and Chief of Air Staff Air Chief Marshal Masihuzzaman Serniabat also briefed the Prime Minister on various development activities of their respective forces.