Bangladesh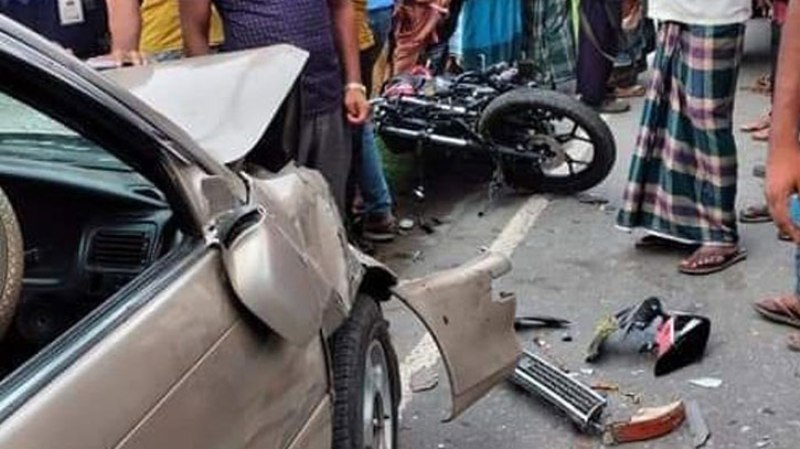 Collected
Three killed in private car-motorcycle collision at Konabari flyover
Dhaka, July 15: Three people were killed in a collision between a private car and a motorcycle in Konabari of Gazipur metropolis. A child was injured in this incident.
The incident took place on the west side of the Konabari flyover on the Tangail-bound lane of the Gazipur-Tangail highway at around 11:30 a.m. on Friday (July 15). The deceased have been identified as Raju (32), Shaheen (30) and Shamim (30). Raju's daughter Raisa (two and a half years old) was injured in this incident. They were all motorcycle riders. Their identities were not immediately available.
Gazipur Metropolitan Police Deputy Commissioner Md Zakir Hasan said that a private car was going towards Tangail from the west side of the Konabari flyover on the Gazipur-Tangail highway around 11:30 am on Friday. The private car collided head-on with a motorcycle coming from the opposite direction. Two people fell from the top of the flyover. The passengers of the private car were also injured in the incident. They were rescued and sent to Gazipur Shaheed Tajuddin Ahmad Medical College Hospital.
Sub-Inspector (SI) of Konabari Police Station of Gazipur Metropolitan Sakhawat Imtiaz said that the victims were going towards Kaliakair on a motorcycle over the Konabari flyover. When their motorcycle reached Konabari new market area, it collided with a private car. Shaheen and Shamim from the motorcycle fell off the flyover and Raju and his daughter fell there.
Later they were rescued and taken to Shaheed Tajuddin Ahmed Medical College Hospital where doctors declared Raju, Shaheen and Shamim dead. Injured child Raisa has been sent to Paralympic Hospital in Dhaka. Legal action in this regard is under process.