Bangladesh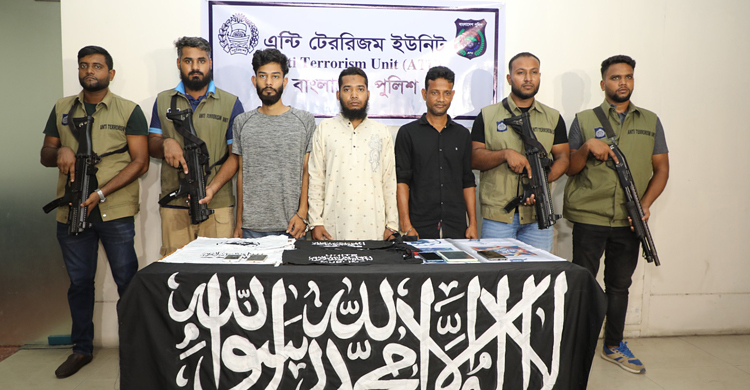 File Picture
Three members of new terror group arrested
Dhaka, 17 September 2023 : A new militant organization called Tawhidul Uluhiyah (Al-Jihadi) is currently showing its activities in Bangladesh. The organization has been conducting its activities for two-three months.
The organization had planned a major attack in the country in 2024. After getting this information from the intelligence sources, the Anti-Terrorism Unit (ATU) of the police arrested three people, including the top leader of the militant organization, Md. Jewel Molla (29). The other two arrested are - Md. Rahul Hossain (21) and Md. Ghaziul Islam (40).
ATU's DIG (Operations) Moha gave this information in a press conference organized at the Anti-Terrorism Unit Headquarters conference room in Baridhara, capital of Kaniba. Alim Mahmud.
DIG Alim Mahmud said that Jewel was arrested from Bagerhat, Rahul from Jaipurhat and Gaziul Islam from Vasantek area of the capital by conducting the operation from last September 13. Jewel is the head of the organization among those arrested. The other two are top level leaders. The organization started functioning for 2 to 3 months. Their plan was to launch a major terrorist attack in the country in 2024.
He said, "For the past few months, we have been getting information through intelligence information that some extremists are gathering."
Extremist regimes were consolidating permanently, subverting the democratic system.
"All the arrested were earlier members of some militant organization. But they were reuniting under one banner with a new goal. They were collecting new members through various videos and posts on social media," DIG Alim Mahmud said.
Jewel is the head of this organization.
"We first arrested Jewel from Rampal in Bagerhat. After that, based on the information given by him, the remaining two top leaders were arrested,"he said.
Eight banners of the organization were seized during their arrest.
He further said that they were initially collecting money as well as membership.
With this money, they planned to buy weapons and collect bomb-making equipment.
The terrorist attack was planned with these weapons and bombs.