Bangladesh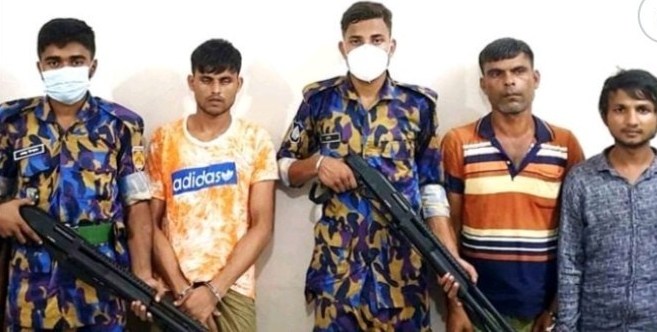 Collected
Three Rohingyas held with arms and yaba pills
Dhaka, October 17: Cox's Bazar-16 APBN has arrested three Rohingyas with weapons and yaba in a raid at Nayapara refugee camp in Teknaf upazila of the province. They were detained from different areas of the Nayapara Rohingya camp on Friday (October 16) evening. At this time 400 pieces of yaba and three machetes were seized from them.
The detainees were identified as Syedul Amin, 25, of Balukhali Camp (9 Block-B / 9) in Ukhiya; Kabir Majhi, 52, of Teknaf Shalbagan Camp (Block-F / 5); and Nurun Nabi (29) of Nayapara Registered Camp.
Cox's Bazar-16 APBN captain (SP) said. Hemayetul Islam said that APBN led by Nayapara police camp inspector Rakibul Islam raided the Nayapara Rohingya camp around 6pm on Friday after receiving information that some criminals from the Rohingya camp were trading in yaba.
Munna group members Syedul Amin, Kabir Majhi and Nurun Nabi were detained along with 400 pieces of yaba and three local Ramda (machetes).
Among them, Nurun Nabi was arrested with weapons at Ukhiya police station.
He was released on bail a few days ago. There are multiple cases against him.
Teknaf Model Police Officer in Charge (OC) Md. Hafizur Rahman said that a case has been filed against the detained Rohingya terrorists under the relevant section.
They will be sent to jail through the court as well as remand application will be made.