Bangladesh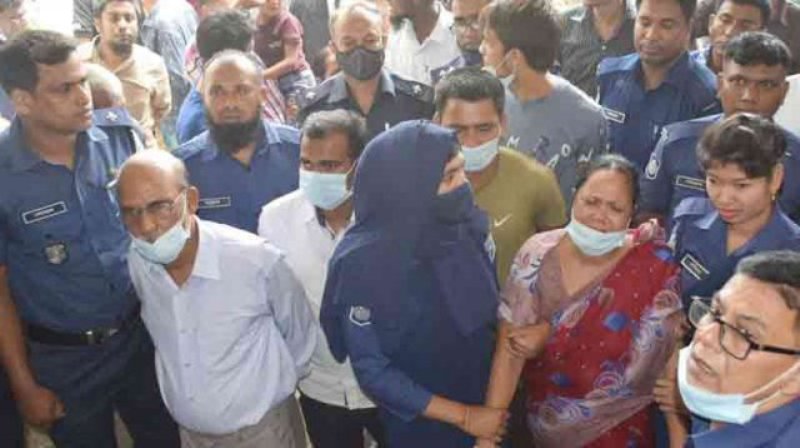 Collected
Three sentenced to death for Dinajpur housewife's murder
Dhaka, May 11: A court has sentenced three people, including Satin, to death in a murder case of a housewife at Phulbari in Dinajpur. The judge also sentenced one to death and another to 10 years rigorous imprisonment. Judge SM Rezaul Bari of Dinajpur Additional District and Sessions Judge-3 pronounced the verdict at noon on Wednesday (May 11).
The accused are Sadhana Nanda Chowdhury (63), son of late Vivekananda Chowdhury of Dakshin Sujapur village in Fulbari upazila of Dinajpur, Akash Chowdhury (27), Pratima Rani Chowdhury (45), wife of Sadhana Nanda Chowdhury, Jiban Chandra Das (30) son of Rabindranath Das of Chakchaka village and Katabari village. Kajal Mahanta (31), son of Kartik Chandra Mahanta.
Among them, Pratima Rani Chowdhury, Akash Chowdhury and Kajal Mahant were sentenced to death, Sadhana Nanda Chowdhury, husband of the slain woman, was sentenced to death and Jiban Chandra Das was sentenced to 10 years rigorous imprisonment. At the same time, Jeevan Chandra Das has been fined one lakh rupees and sentenced to six months rigorous imprisonment for non-payment.
The court's public prosecutor (PP) Rabiul Islam confirmed the verdict. "We are satisfied with the court's decision," he said.
According to the summary of the case, Sadhanananda Chowdhury married Pratima Rani Chowdhury in 2014 while he was married to his first wife Tapati Rani Chowdhury. From then on, Swami Sadhanananda kept Rani Chowdhury apart and did not support her. They often had quarrels over this.
After 9 pm on April 6, 2017, Tapati Rani was physically abused by her husband, his other wife and five others including the wife's son. At one point she was killed by suffocation. Later, the body was taken to a bamboo garden in North Krishnapur village and set on fire.
Shubhananda Chowdhury, son of the deceased, filed a case with Fulbari Police Station. After investigation, the police submitted the charge sheet. The four accused in the case gave confessional statements in the court under section 164. Later, the court took the testimony of 22 people. The verdict was announced today after taking evidence.