Bangladesh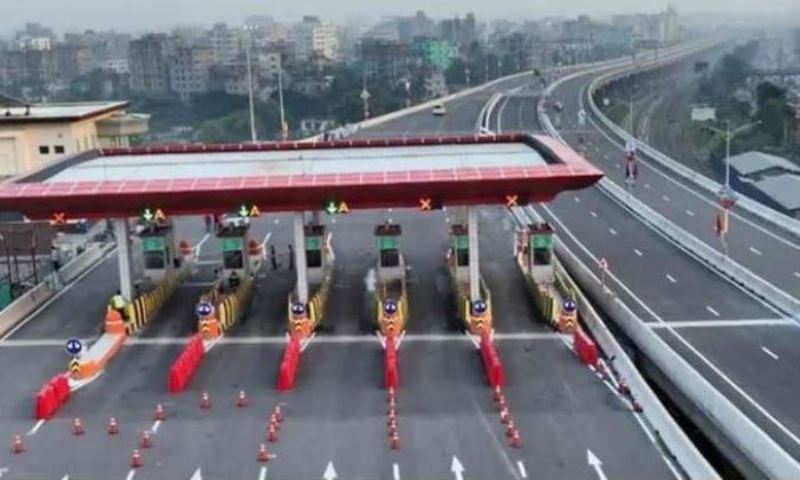 File photo/Collected
Tk 7 cr toll collected in first month on elevated expressway
Dhaka, Oct 3: Monday (October 2) marked one month of the inauguration of the country's first elevated expressway. Kawla to Tejgaon section of Dhaka Udal Road, the much-awaited elevated expressway, was inaugurated on September 2 to ease traffic congestion in Dhaka. It was opened for traffic a day later on September 3. After the inauguration, 8 lakh 36 thousand 558 vehicles pass through this flyover in a month. About 99 percent of these are private vehicles (private cars), which are called Category 1, the number of which is 8 lakh 28 thousand 987. Tk 6 crore 77 lakh 43 thousand has been collected from these vehicles in one month.
On the other hand, except for some buses of Bangladesh Road Transport Corporation (BRTC), the rest of the public transport avoids this flyover. This information is known from the Bangladesh Bridge Authority.
According to Bangladesh Bridge Authority, category 2 or medium trucks (up to 6 wheels) toll Tk 320, the number of vehicles is 1,380. Category 3 or truck (more than 6 wheels) Tk 400 toll, the number of vehicles is 49. And category 4 or all types of buses (16 seats or more) Tk 160 toll, the number of these vehicles is 6,142. On an average, 29,877 vehicles travel through the expressway every day. And the daily toll of Tk 24 lakh 19 thousand has been collected.
However, the relief is that BRTC buses are plying on the Dhaka Elevated Expressway. On September 18, Secretary of Road Transport and Highways Department ABM Amin Ullah Noori inaugurated the operation of this bus from Farmgate's Khamarbari end. Through this public transport is getting the opportunity to use the elevated expressway. However, passengers have to transfer from both ends of the expressway. The bus is not stopping anywhere in between.
Eight buses of BRTC are transporting passengers from three depots. Buses pick up passengers from Uttara Jasimuddin, Airport Railway Station and Kawla and come directly to Farmgate via the elevated expressway.
On the other hand, a special A bus service is taking passengers towards the airport from Khejur Bagan roundabout, Khamarbari and Bijoy Sarani on Manik Mia Avenue, dropping passengers at Farmgate.