Bangladesh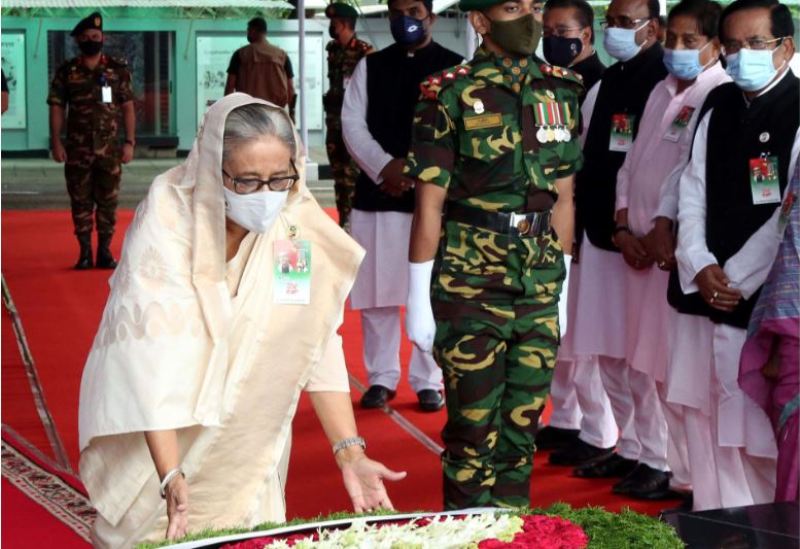 Photo: PID
Today is 73rd founding anniversary of Awami League
Own Correspondent, Dhaka, June 23: Today is the 73rd founding anniversary of Bangladesh Awami League, the party that led the country to independence through the great war of liberation. This political party was established on June 23, 1949 with the establishment of the East Pakistan Awami Muslim League in the traditional Rose Garden of Old Dhaka.
At the time of its establishment, Father of the Nation Bangabandhu Sheikh Mujibur Rahman was imprisoned. He was made joint general secretary of the party.
On the other hand, although the All Pakistan Awami Muslim League was formed centrally, it was later renamed as 'Awami League' to reflect the non-communal political ideology. After the victory in the 1954 elections, the word 'Muslim' was dropped from the name of the party in the council of Awami Muslim League held in 1955, and the two words 'East Pakistan' have been omitted from the time of Bangladesh's war of independence.
After the declaration of independence in Bangladesh, the name Bangladesh Awami League was used in all the papers of the expatriate government. The boat has been the election symbol of this party since 1970. Later, this party, one of the oldest in the country, became the organization of the masses of the country by leading every democratic, political and social movement including the war of independence and liberation of Bangladesh.
On the occasion of the day, a detailed programme has been taken up by the party every year. Due to the corona virus situation, various programmes have been organized in compliance with the health and hygiene rules.
These programmes include hoisting party and national flags at all offices of the country including the central office at sunrise on this day. On the same day at 8 am, paying homage to the portrait of Father of the Nation Bangabandhu Sheikh Mujibur Rahman with flowers at Dhanmondi No. 32 and at 10:30 am, a discussion meeting at 23, Bangabandhu Avenue. Prime Minister and Awami League President Sheikh Hasina will virtually join the meeting from Ganobhaban.
Besides, a delegation of the Awami League Central Executive Parliament will pay homage at the tomb of Father of the Nation Bangabandhu Sheikh Mujibur Rahman in Tungipara.
Political experts and eminent people think that the achievement of Awami League is the achievement of democratic people of Pakistan period, the achievement of this party is the achievement of Bangladesh. This party has implemented what it felt was necessary for the nation.
From the language movement to the liberation war, the Awami League has played the highest role in the formation of Bangladesh by leading all movements from the front. Despite the conspiracies of the opposition since independence, Bangladesh Awami League has risen from the rubble and established democracy by ending the dictatorship.