Bangladesh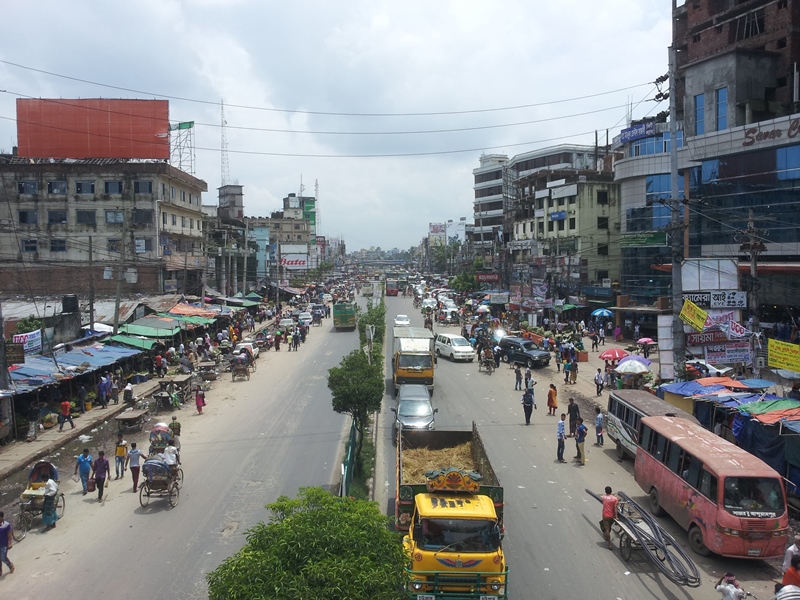 File photo/Wikimedia Commons/Adib Ehsan
Tongi, Savar and Keraniganj to come under Dhaka metro
Dhaka, March 21: Dhaka's neighboring cities Tongi, Savar, and Keraniganj will be coming under Dhaka City Corporation. Surveyor General of Bangladesh Brigadier General Md. Habibul Haque said that it will help to develop Dhaka as a modern livable city.
He said this while addressing a seminar at the multi-purpose hall of the Bangabandhu Military Museum at Bijay Sarani in the capital on Monday (March 20).
It was a briefing seminar on the project titled 'Preparation of Large Scale Topographical Map of Dhaka City and its Surrounding Areas (Second Revised) through Sky Photography by Bangladesh Survey Directorate under the Ministry of Defence'. This information has been informed in a circular sent by the Directorate of Inter-Services Public Relations (ISPR).
Brigadier General Md. Habibul Haque said that a project has been undertaken by the Directorate of Survey to prepare a large-scale topographical map of Dhaka city and surrounding areas by capturing aerial photographs. Because Tongi, Savar, and Keraniganj are outside but are going to join Dhaka City Corporation.
He said that through this project, it will be possible to provide digital maps of Dhaka city with the latest geospatial information rich in large-scale (1:2,500) Geographic Information System (GIS) database to government, private, autonomous, and research organizations engaged in development planning work. Through this, it will be helpful to develop Dhaka as a modern livable city. The present government is working to make Dhaka city modern, attractive and livable and to ensure all kinds of civic services. Bangladesh Survey Directorate geospatial data will add a new dimension to this journey.
He said, according to DAP, the area of Dhaka city and surrounding areas is approximately 1528 square kilometers. In 2003, 122 1:5,000 scale maps of Dhaka city and surrounding areas were prepared through aerial photographs captured by the Bangladesh Survey Directorate. Various infrastructure development plans are under implementation using that map. As these maps are old, the needs of the planners cannot be met with their help. Already the population and shape of the city has increased a lot. As a result, the neighboring towns of Dhaka city, Narayanganj, Tongi, Savar and Keraniganj are going to be connected with this city even though they are outside the Dhaka City Corporation. Industrialization is growing rapidly in Dhaka city and surrounding cities. A large number of people from remote areas of the country are rushing to Dhaka for employment.