Bangladesh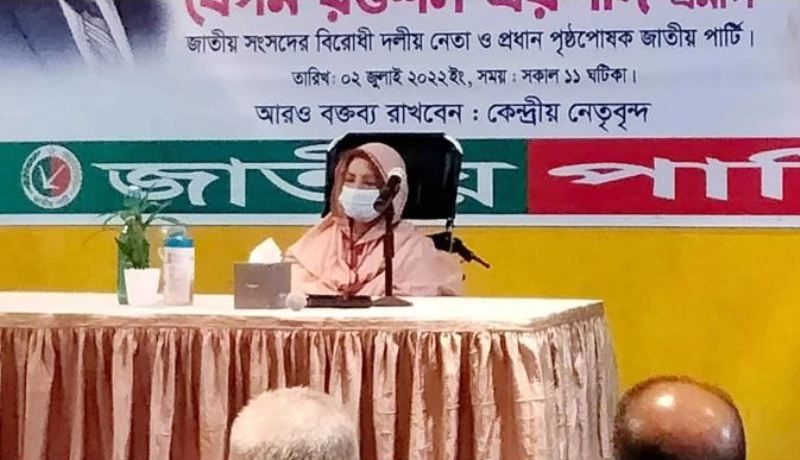 Photo: Collected
Top Jatiya Party leaders skip Rowshan Ershad's view-exchange meeting
Own Correspondent, Dhaka, July 3: Rowshan Ershad, the Leader of the Opposition in the National Parliament and the main patron of the Jatiya Party (JPA), called a party view-exchange meeting at the Westin Hotel in Gulshan on Saturday. None of the senior leaders, including the party chairperson, attended the meeting. Top leaders boycotted the meeting as some leaders, who had been expelled from the party, were invited. As a result, the meeting ended in a kind of failure.
Rowshan Ershad said in the meeting, Pallibandhu Ershad is no more. If he was present, the party would have been different.
She made the remarks at a meeting at the Westin Hotel in Gulshan on Saturday (July 2) noon. Top leaders including, Jatiya Party chairman Golam Mohammad (GM) Kader, were not present at the meeting.
Rowshan said those who were exempted or expelled from the party should be taken back. Those who have left must also be brought back. Otherwise we will be far behind. She alleged that arbitrariness was going on in the Jatiya Party.
In her speech, Rowshan Ershad expressed her displeasure and said, "I was undergoing treatment in a hospital in Thailand for six long months. No one from the party took my health update. I took everyone's update. But those who have been expelled from the party were in regular contact with me. They had prayed in various places of worship including mosques and shrines for my speedy recovery."
She said many good leaders are out of the party, they need to be brought into the party. The new generation must be brought into the party. Many senior leaders including Kazi Zafar, Shah Moazzem, Anwar Hossain Manju have left the party and arrangements have to be made to bring them back. The party has to be made equal to Awami League and BNP. Otherwise we will not be able to survive in politics.
The Leader of the Opposition said, "I will do whatever is necessary to strengthen the party. Hussain Muhammad Ershad formed the party wholeheartedly. We have to work with everyone."