Bangladesh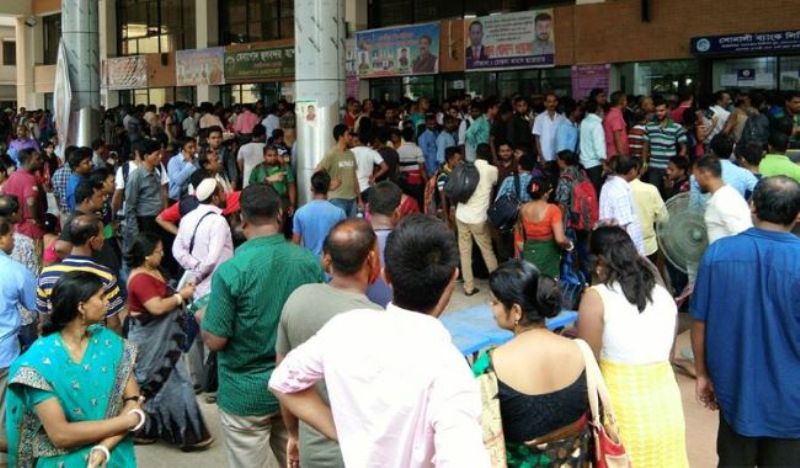 Photo: Collected
Trade and passenger traffic increased through Benapole land port
Own Correspondent, Dhaka, May 14: The number of passengers with passports between India and Bangladesh has increased through Benapole land port.
From May 1 to May 12, 54,428 passengers crossed the Benapole border between the two countries. Of these people, 18,589 went to India and 15,539 returned from India.
With the lifting of Corona restrictions, the number of passengers having passports has increased and the import-export trade has increased too.
According to sources, 15 lakh 67 thousand 295 metric tonnes of goods have been imported and three lakh 36 thousand 815 metric tonnes of goods have been exported in the first nine months of 2021-22 fiscal year. However, due to lack of space in the port and lack of legal facilities for passenger services, the suffering has increased in trade and passenger movement.
Animesh Haldar, a passenger going to India, said that he could not go to India even though it was necessary for him to go to India for so many days due to various conditions. But now that all the conditions have been met and the visa has been eased, he is going to visit India. However, although the suffering in Bangladesh has decreased a little, the suffering has increased due to the lack of police manpower in Petrapole Immigration in India. Standing in long queues and suffering in the sun and rain. If manpower is increased and passenger camps are built, this misery will be relieved.
C&F trader Jahangir Hossain said it was not possible to import and export goods as per the demand due to corona. But now the hassle has decreased with withdrawing the conditions and restrictions. But loading and unloading of goods are being hampered due to space crisis and problems of cranes and forkclips at the port.
Aminul Haque, vice-president of the Benapole Import-Export Association, said the port of Benapole handles imports worth Tk 40,000 crore and exports worth Tk 8,000 crore every year. In addition, about 18 lakh passengers travel annually on medical, business, education, adoption and travel visas. The government's revenue of Tk 6,000 crore in the trade sector and about Tk 100 crore in the travel sector comes from Benapole land port. With the development of necessary infrastructure, import trade and passenger traffic will increase further.