Bangladesh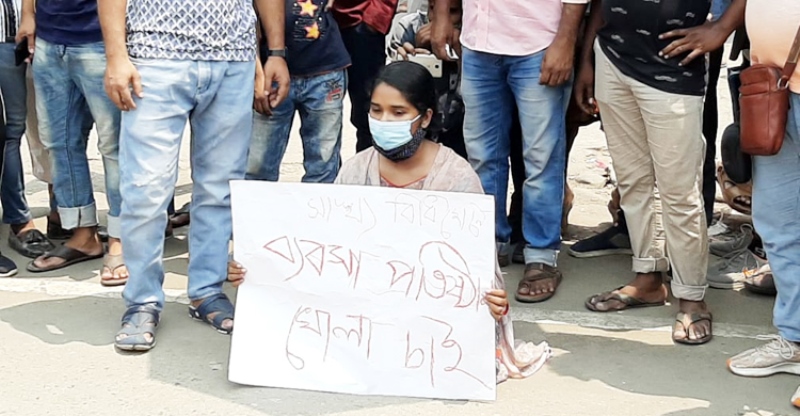 Collected
Traders protest in Mirpur
Dhaka, April 6: Mirpur traders have protested against the government-imposed lockdown against coronavirus. The protest took place on Tuesday (April 6), the second day of the lockdown.
After 11:30 pm, the protesters started protesting in different areas of Mirpur. They took position at Mirpur No. 1 around 12 noon. They marched around the area at around 12:20. The protest continued till 12:30 pm. Traffic congestion were witnessed somewhere due to the protests.
Meanwhile, on Tuesday (April 6) at noon on the street in front of Chandni Chowk Market in the capital, a young woman sat with a sad face holding a placard saying 'Business should be kept open in compliance with hygiene rules'. Seeing her sitting in the scorching sun, an employee of the market came forward with an umbrella in his hand. She thanked him and asked him to remove the umbrella.
Employees of various markets including New Market, Gauchia, Chandnichak of the capital gathered here today and yesterday to demand to keep the market open. Among many was that young woman. The young woman's name is Afrin. She is a resident of Lalkuthi area of ​​Narayanganj and is a small entrepreneur.
She said she was severely damaged commercially by the Covid pandemic last year. She was hoping of turning around by working tirelessly to make up for that loss.
With the upcoming Ramadan in mind, some of them have started their business with loans from banks and some with loans from NGOs. They were hoping to make up for the damage done last time. But with the new lockdown, their dreams are shattered.
Afrin said she took orders for various garments, including three-pieces, from Islampur and Gauchia and did various handicrafts such as handicrafts and stone laying. Every year before the start of Ramadan, she gives these clothes to the traders at her own expense.
She said, 'If the market is closed due to lockdown, where will the traders pay? And if they can't pay, where will I pay the bills of the artisans and others? For a few days, my night's sleep has been forbidden. There will be no way out except to die (financial loss) if there is another push due to the lockdown."