Bangladesh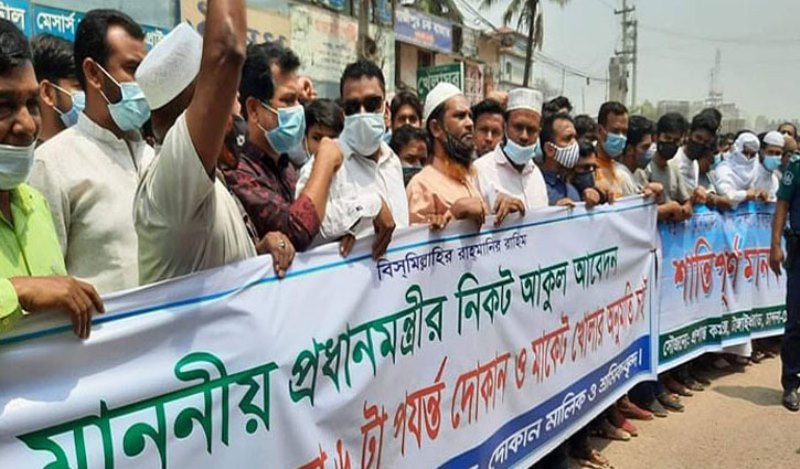 Collected
Traders want to hear the good news on April 24
Dhaka, April 19: The country is undergoing a severe lockdown to prevent the spread of the epidemic coronavirus. The government has decided to extend the lockdown for another week during the first phase of the severe lockdown. Due to the lockdown, everything from public transport to shops, shopping malls, small and big markets are closed.
The leaders of the shop owners' association are meeting more than once with the top echelons of the government to open these shops and shopping malls and are making various demands. On Sunday (April 18), the shop owners' association demanded that a limited number of shops be opened after the 22nd, but on Monday (April 19) it was decided to increase the lockdown again.
Leaders of the shop owners' association say they have spoken to a high level of government. There may be some good news on the 24th.
In this regard, the president of the Bangladesh Shop Owners Association. Helal Uddin said, corona infection is increasing day by day in the country. In this case, keeping the shop or shopping mall open is also a matter of great risk. Even then we have to do business. But it is better to do everything with caution.
"We spoke to high-ranking government officials yesterday," he said. They told us that the previous variant of Corona was that people would get some time to get treatment if they became infected. But what has come to Bangladesh now is that people are not aware of the infection or many are dying as soon as the report is positive.
"We have spoken to the chief secretary to the prime minister," he said. We are trying to open the market before Eid. I am hoping to get some good news on the 24th. He assured us that they could give us good news on the 24th.
Meanwhile, Jalal Hossain, a businessman from Dhaka New Market, said that everything was closed at the same time last year due to Corona. Eid is also closed this year. This is a good time to sell our products. If we can't sell now, we will lose a lot. We want at least shops and markets to be opened before Eid.