Bangladesh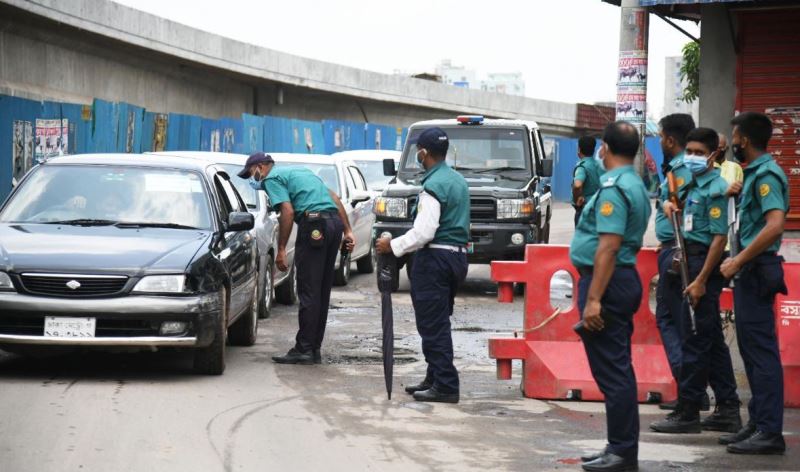 PID
Traffic pressure on the road on the fifth day of the lockdown
Dhaka, July 27: Compared to the last four days, more traffic was observed on the roads of the capital on Tuesday- the fifth day of the hard lockdown. Office-goers were seen sharing rickshaws fares. Some shops in the neighborhood opened. On the other hand, police search continued at various points of the road. The presence of cars at various signals were noticed.
Meanwhile, there is pressure of private vehicles on the road. Rickshaws, motorcycles, office buses and freight trucks are running. Extensive search by the traffic police has resulted in traffic jams at the checkposts. Yet police are searching the passengers of each vehicle. Police are taking legal action against those who have gone out unnecessarily or are unable to respond satisfactorily.
Although the government and private offices are supposed to be closed due to the ongoing strict restrictions, some offices are still open. Various financial institutions including banks are open. As a result, the traffic on the road has increased since last Sunday, police said.
When it started raining in the capital in the morning, pedestrians were seen taking shelter under the sheds of various shops. Those in dire need have been seen pulling curtains and riding rickshaws to escape the rain. The checkposts were empty for some time in the rain. After the rain subsided, the police search started again.
Who can move on the road? In response to such a question, Mohammadpur Traffic Zone Traffic Inspector Zahurul Haque told Dhaka Post, "Many offices, including banks, insurance, financial institutions are open. We are checking every car. As a result, there has been a long queue of cars behind. Many people are going here for financial work, going to see patients, going to get vaccinated, various goods vehicles are coming. We are trying to keep everyone from going out of the house unnecessarily. Legal action is being taken against those who are not able to give valid reason as to why they have ventured out."