Bangladesh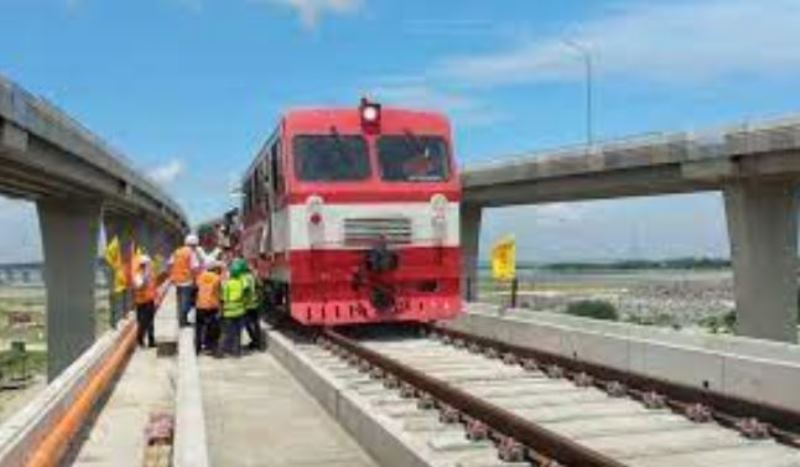 Photo: Collected
Trains to run at 120 kph from Kamalapur to Bhanga
Dhaka, March 18: From the capital's Kamalapur railway station, the train will reach Faridpur's Bhanga station at a speed of 120 km per hour, crossing the 16-km flyover and Padma bridge.
Already 42 km broad gauge line has been established from Bhanga to Mawa via Padma Bridge. 25 km of the 39 km railway line from Mawa to Kamalapur has been completed. The most important part of this route is the 16 km aerial railway. Construction of 9 km flyway has already been completed. Next September, the train will go directly from Dhaka to Banga station via Padma bridge. Special engine-coaches for train operation on this route will start arriving from China within the next few months.
In this regard, Minister of Railways Md. Nurul Islam Sujan said that the 172 km new Padma Bridge rail link project from Dhaka to Jessore is in progress. It will be the most modern and fastest railway. The train will run at a speed of 120 km on this route. We will be able to operate passenger trains from Dhaka to Bhanga via Padma Bridge by September this year. In the beginning I will manage four pairs of trains. The entire project will be completed by 2024. As a result, 23 districts will be newly connected to the railway network.
It is known that the journey of railways in the territory of Bangladesh as public transport started on 15 November 1862. At present there are 3 thousand 99 kilometers of railways in the country. Another 81 km of new railway track is being added till Kamalapur-Bhanga by next September. Modern signaling system is also being introduced on this route. All level crossings will be underpasses. On this first line of railways, the project without level crossing is being constructed. As a result, it will be possible to run the train at a speed of 120 to 130 km on this route. Padma Bridge and Udal Road have been laid without stones. The cost of this project has been estimated at Tk 39,247 crore.
Meanwhile, the work of laying the line from Kamalapur to Demra railway station is progressing rapidly. The entire line from Kamalapur railway station outer to Tttipara is being underpassed. This means that trains can enter and exit the station at a faster speed. The entire project is divided into three parts. These are – Kamlapur to Mawa, Mawa to Padma Bridge to Faridpur to Bhanga and Bhanga to Jessore.