Bangladesh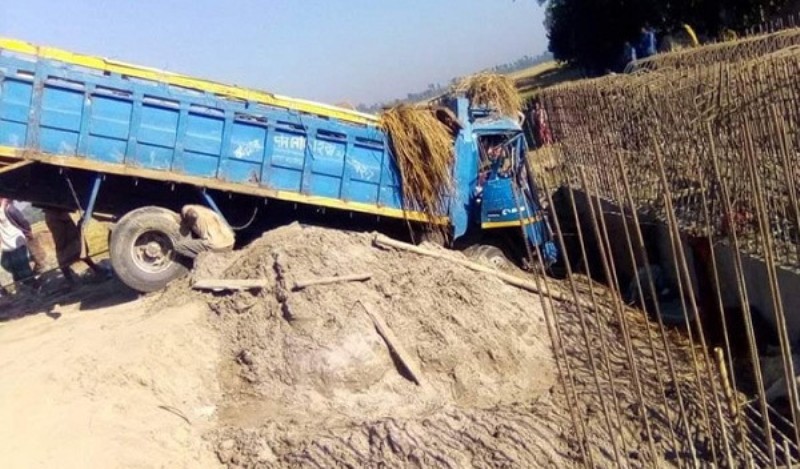 Collected
Truck loaded with cattle falls into ditch, kills guard, 13 cows
Dhaka, December 1: A 60-year-old man was killed in a truck accident at Nakla in Pasharpur. Two more people were injured in the incident. Besides, 13 cows in the truck died. The accident took place at midnight on Tuesday (December 1) in the Kurshabadagaur area of Nakla upazila on the Dhaka-Sherpur highway.
The deceased was identified as Shorhab Ali, son of Syed Ali of the same area. The injured were identified as truck driver Mokhlesh Mia, 25, and cattle trader Nabi Hossain, 32.
According to police and locals, the traders were going to Kishoreganj by truck after buying 32 cows from Roumari in Kurigram.
The truck lost control in Kurshabadagaur area of ​​Nakla upazila and fell into the ditch of the bridge under construction. Shorhab Mia, a bridge guard, was killed on the spot.
Of the 32 cows in the truck, 13 died on the spot. Later, fire service personnel cut the door of the truck and rescued the driver Mokhles and sent him to Mymensingh Medical College Hospital and cattle trader Nabi Hossain to Nakla Hospital. The rest of the cows were rescued and taken into the custody of Nakla police station.
After the incident, Upazila Executive Officer Zahidur Rahman, Upazila Chairman Shah Md. Borhan Uddin, Officer-in-Charge of the police station Mushfiqur Rahman visited the spot.
Officer-in-charge (OC) of Nakla Police Station Mushfiqur Rahman confirmed the incident and said that the body of Chorhab Ali and 19 cows were recovered alive from the spot and taken into police custody. He said preparations were underway to file a case in this regard.