Bangladesh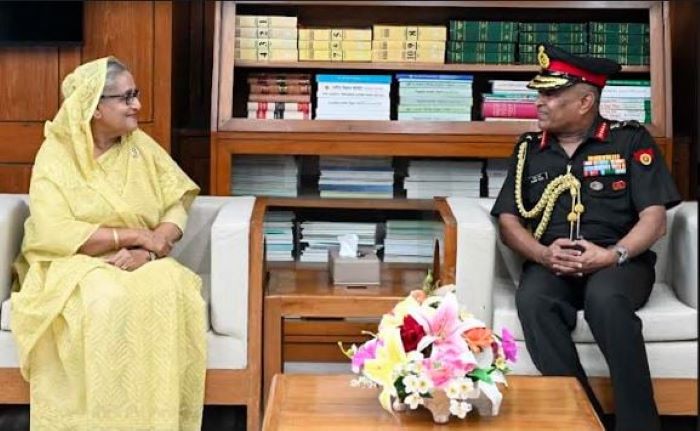 PID Bangladesh
Trying to take country forward despite limitations: PM Sheikh Hasina
Referring to Bangladesh as a country with a large population, Prime Minister Sheikh Hasina said, "Despite various limitations and limited resources, the government is trying hard to advance the country socio-economically."
Indian Army Chief General Manoj Pandey, who is visiting Bangladesh, paid a courtesy call on Prime Minister Sheikh Hasina. The meeting took place at the Prime Minister's office at Jatiya Sangsad Bhavan on Tuesday (June 6) evening. At that time the head of government said this.
After the meeting, Prime Minister's speech writer M Nazrul Islam briefed the journalists.
He emphasized the need to increase cooperation between the armies of the two friendly countries.
Sheikh Hasina said, 'Cooperation between the armies of the two neighboring countries should be strengthened.'
Referring to the establishment of the Bangladesh Institute of Peace Support Operations Training (BIPSOT) by the present government, the Prime Minister said, "There is an opportunity to exchange activities between the two countries for mutual benefit." remember
Referring to poverty as the main enemy, Sheikh Hasina said, 'Poverty is the main enemy of the people of this region. The countries of this region must work unitedly to eliminate poverty.
Highlighting various aspects of Bangladesh-India relations, he said, 'Bangladesh and India have excellent bilateral relations. Employing this relationship, importance has been given to socio-economic development.
In the meeting, the Indian Army Chief said, "The cooperation between Bangladesh and India in the defense industry is progressing very well." General Manoj Pandey assured the Prime Minister that the cooperation in the modernization of the Bangladesh Army will continue in the coming days.
He said, there is a possibility to strengthen the cooperation between the two friendly countries in technical and other fields. The Indian Army Chief emphasized the need to utilize these opportunities for mutual benefit.
During the meeting General Manoj Pandey informed the Prime Minister that he had visited the Bangladesh Military Academy in Chittagong and was really impressed by the modern facilities there. At this time, Ambassador at Large Mohammad Ziauddin and Chief Secretary to the Prime Minister. Tofajzel Hossain Mia was present.