Bangladesh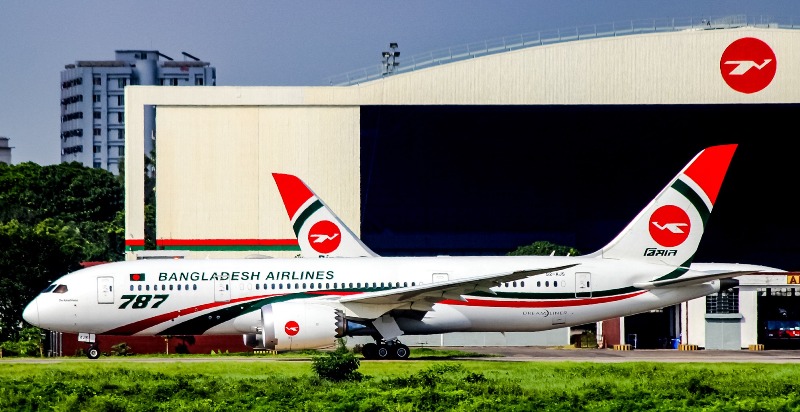 File photo/Wikimedia Commons/Md Shaifuzzaman Ayon
Two Bangladesh Biman jets collide at Dhaka airport, wings damaged
Own Correspondent, Dhaka, July 4: Two Bangladesh Biman aircrafts collided with each other again at Hazrat Shahjalal International Airport in Dhaka. Wings of both the planes have been damaged.
The incident took place at 9:20 pm on Sunday (July 3) in the hangar area of the airport. Wings of one Boeing-787 and another Boeing-737 aircrafts were damaged in the collission.
Airport authorities said one of the two planes was already parked. The other flight was coming to the parking lot when this incident took place. However, no casualties were reported.
Biman Bangladesh Airlines General Manager (GM-PR) Tahera Khandaker said a Boeing 787 model aircraft arrived in Dhaka from Singapore at 7:10 pm. When it was being taken to the hangar, the left wing of the Boeing 737 collided with the right wing of the Boeing 787 at 9:20 pm.
The lights on the left wing of the Boeing 737 were damaged and the lower part of the right wing of the Boeing 787 was scratched in the collission. The engineering department is working to find out the amount of damage.
Earlier on June 16, a Boeing-787 Dreamliner was damaged in an incident at the same airport. Pushback of the flight had been started without disconnecting the boarding bridge. This damaged the door of the aircraft.
Earlier in April, two aircrafts of Biman Bangladesh Airlines collided in the hangar of Hazrat Shahjalal International Airport and both were damaged.