Bangladesh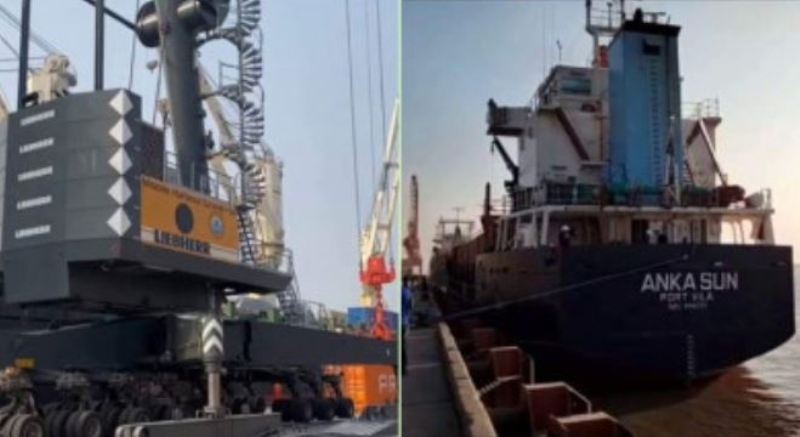 Collected
Two Russian ships in Mongla with Rooppur power plant goods
Dhaka, January 30: Two Russian ships carrying electrical and machinery products of Rooppur nuclear power plant arrived at Mongla port. At around 5:30 pm on Sunday afternoon, 'Anka Sun' crowded at Jetty No. 7 and 'Sapodilla' crowded at Jetty No. 8 at 7:00 PM.
Captain Shaheen Majid, harbor master of the port, said that the Venuta-flagged vessel MV Anka Sun arrived at Jetty No. 7 of Mongla Port around 5:30 pm with the electrical goods of the nuclear power plant. 1,979 packages of 1,400 metric tons of electrical products left Novorski port in Russia on December 26. Besides, MV Sapodilla arrived at Jetty No. 8 of the port around 7 pm with 436 packages of 518 metric tons of machinery products from St. Petersburg port in Russia.
Sadhan Kumar Chakraborty, local shipping agent Conveyor Shipping Lines Khulna Manager (Operation Shipping) of foreign ship Anka Sun and Asim Mondal, local shipping agent Interport Khulna manager of Sapodilla, said that unloading of goods will start at night from two ships stationed at the jetty. Then from Monday-Tuesday it will be taken by road to Rooppur Nuclear Power Plant.
Earlier on January 22, foreign ship MV Kamilla reached Mongla port with the goods of Rooppur nuclear power plant.
Recently, the United States of America has banned 69 ships of seven shipping companies from Rooppur. As a result, MV Usra Major, which had left Russia at Mongla port with Rooppur goods, was not allowed to enter Bangladesh. The ship was scheduled to arrive at Mongla port on December 24. Later, when the ship went to India to unload the goods, Usra Major returned without being able to unload the goods.