Bangladesh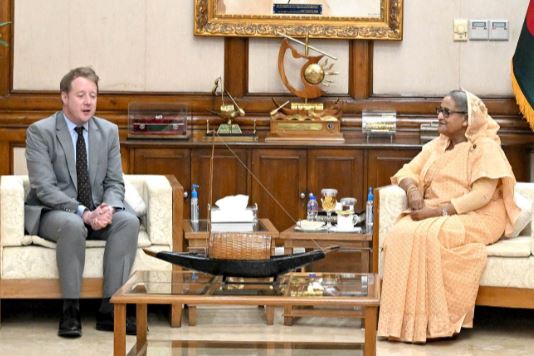 PID Bangladesh
UK delegation meets Prime Minister Sheikh Hasina
Dhaka, 19 March 2023 : A UK delegation paid a courtesy call on Prime Minister Sheikh Hasina at her official residence Ganobhaban on Saturday night.
The delegation included Paul Bristow MP, Jane Hunt MP, Paulette Hamilton MP, Anthony Higginbotham MP and Tom Hunt MP.
The meeting discussed the Rohingya problem, Bangladesh's socio-economic progress, development and women's empowerment. After the meeting, Prime Minister's Deputy Press Secretary KM Shakhawat Moon briefed the journalists.
The Prime Minister welcomed the delegation to Bangladesh and informed about the various steps taken by his government for the overall development of Bangladesh.
The delegation praised Prime Minister Sheikh Hasina's dynamic leadership in the fields of agriculture, education, health and women's empowerment.
Sheikh Hasina said, people did not know anything about mental health. His daughter Saima Wazed introduced it to people. Bangladesh is exporting medicines to many countries. Bangladesh wants the Rohingya problem to be resolved through dialogue.
At that time, Prime Minister's Private Industry and Investment Advisor Salman F. Rahman, Ambassador at Large M. Ziauddin, State Minister for Foreign Affairs Shahriar Alam and Chief Secretary to the Prime Minister M. Tofazzal Hossain Mia were present.