Bangladesh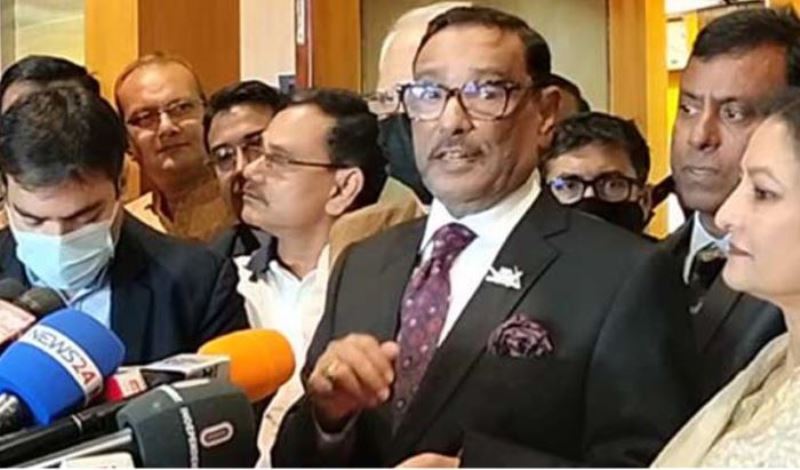 Photo: Collected
UN wants fair elections, Awami League wants BNP's participation: Obaidul Quader
Dhaka, August 25: The United Nations wants the upcoming 12th National Parliament elections in Bangladesh to be free, fair and peaceful. On the other hand, Awami League also wants competitive elections and the participation of BNP in those elections.
A delegation of Awami League held a meeting with the United Nations Resident Coordinator in Bangladesh Gwen Lewis in Gulshan on Thursday afternoon. Awami League General Secretary Obaidul Quader said this during the press briefing after the meeting.
Quoting the meeting, Obaidul Quader said that the United Nations wants free, fair and peaceful elections in Bangladesh. Awami League also wants competitive elections. The more competitive the election is, the more acceptable it will be at home and abroad.
He said that Awami League also wants free, fair and peaceful elections. At the same time, he also wants big political parties like BNP to participate in the election. Why should I force them (BNP) to come to the election? Participating in elections as a political party is their right, not a privilege.
Referring to BNP, Awami League General Secretary further said that they (United Nations) have no say or concern regarding the demands of Prime Minister's resignation, dissolution of parliament and caretaker government. They said, these are the internal affairs of Bangladesh.
Regarding the meeting, he further said that today's discussion was a little different. Development of Bangladesh, what to do in SDGs have been given importance in the discussion. They (UN) expressed satisfaction with the massive development progress of Bangladesh under the leadership of Prime Minister Sheikh Hasina.
The meeting led by Obaidul Quader was also attended by Awami League presidium member Lieutenant Colonel (retd.) Farooq Khan, International Relations Secretary Dr. Shammi Ahmed, Information and Research Secretary Salim Mahmud, Office Secretary Biplab Barua and Executive Committee member Mohammad Ali Arafat.