Bangladesh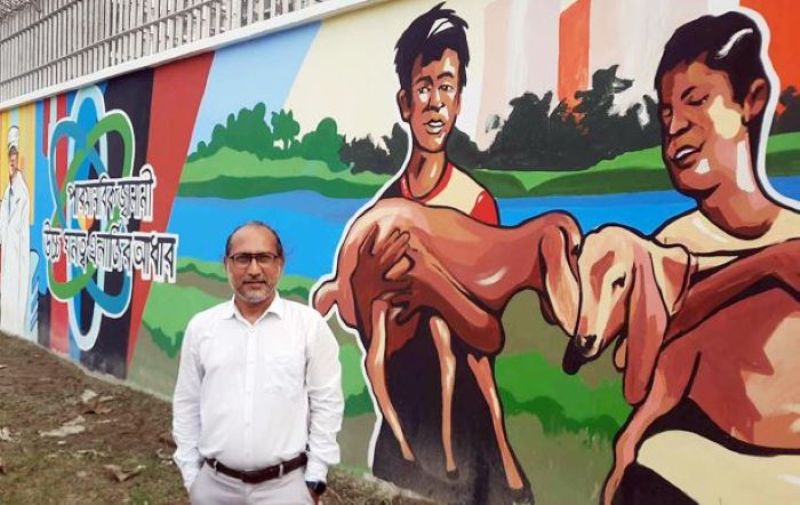 Collected
Uranium transfer on Thursday, festive atmosphere in Rooppur
Own Correspondent, Dhaka, 3 October 2023: A festive atmosphere has spread in the project area around the 'Fresh Nuclear Fuel' or Uranium handover ceremony of the first unit of Rooppur Nuclear Power Plant under construction at Ishwardi in Pabna. This festival has touched the entire Ishwardi. The project and green city area are being decorated with colorful decorations.
On Thursday, October 5, Russian authorities will officially hand over fresh nuclear fuel or uranium to Bangladesh at Rooppur nuclear power plant. To commemorate this event, huge activities are going on across Rooppur. Construction of pandals, hanging of festoons, various decorations including wall painting. A colorful rally has been organized from Rooppur project to Greencity every day since Tuesday, October 3.
Painter Tipu Sultan has tried to remove common people's misconceptions about nuclear through various paintings on the front wall of Green City. He said, there is a misconception that the natural environment of the area will be destroyed if the nuclear power plant is established. The fact that there will be no impact on the natural environment due to the project is attracted to people through colorful paintings. Besides that, the achievements of our country have been placed in this painting.
Minister of Science and Technology along with officials of the Ministry and a high level delegation of Russia are staying in Rooppur to make the uranium transfer ceremony a success.
Prime Minister Sheikh Hasina, Russian President Vladimir Putin and International Atomic Energy Agency (IAEA) Director General Rafael Grossi will participate virtually in the uranium transfer ceremony. Alesky Likhachev, director general of Russia's state nuclear agency Rosatom, will be present in person to hand over the uranium. Science and Technology Minister Architect Yafes Osman will receive uranium on behalf of Bangladesh.
Science and Technology Minister Yafes Osman visited the Green City painting on Monday. At the time, he said, such a big achievement has not been achieved for the country before after independence. We are now the 33rd nuclear nation in the world and have the capability to work with such technology.
Mentioning that this is a great achievement for Bangladesh, the minister said, "We are grateful to the people of the whole country for their help and cooperation for the implementation of this project, not alone. Today, we have been able to complete this project due to the cooperation of the people of the country.