Bangladesh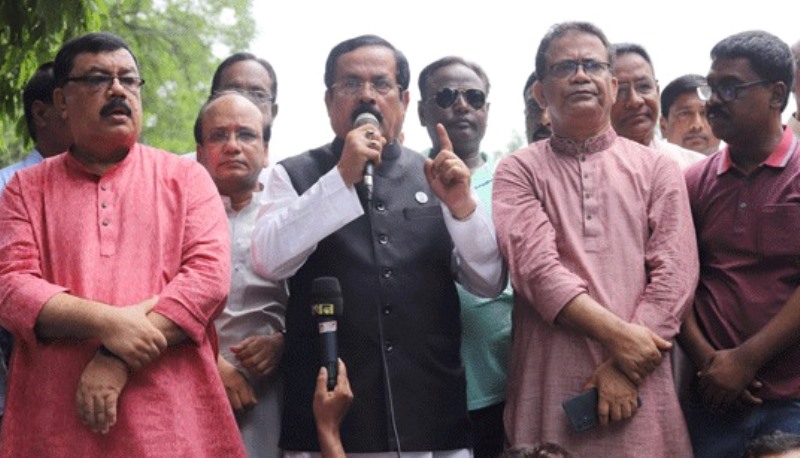 Photo: Collected
Urdu speakers will not be evicted without resettlement
Own Correspondent, Dhaka, Sept 24: The current government has provided shelter to 3 million families who were homeless and landless. Urdu speakers living on railway's land will not be evicted without resettlement. Remember that there is Sheikh Hasina in the country, no one will be homeless in her presence.
Jahangir Kabir Nanak, the presidium member of the Awami League, said these things in a road meeting held at Shaheed Memorial square of Saidpur city of Nilphamari at 11 o'clock on Friday (September 23).
The meeting was held on the way to Nanak's Rangpur by road from Dhaka to Syedpur. Syedpur Urdu Speaking Camp Development Committee organized this road meeting. After the partition of India in 1947, these Urdu speakers came to East Pakistan (now Bangladesh) from the Indian state of Bihar. In 1971, they were in trouble after the independence of the country because they took Pakistan's side during the liberation war. They wanted to go to Pakistan again and again claiming to be Pakistanis, but the Pakistani government refused to accept them. Finally, the Sheikh Hasina government gave them Bangladeshi citizenship.
Nanak also said in that road meeting, "You (Urdu speakers) were not voters at one time. The current Prime Minister Sheikh Hasina has given you that right. Now your children are getting educated in higher education and doing government jobs."
Saidpur Upazila Awami League President Mokhchedul Momin and Urdu Speaking Camp Development Committee President Majid Iqbal also spoke at the meeting. Nilphamari District Awami League General Secretary Mamtazul Haque, Sadar Upazila Awami League President Abuzar Rahman, District Jubo League President Shahid Mahmud, Domar Upazila Parishad Chairman Tofail Ahmed, Rangpur District Jubo Mahila League General Secretary Nachima Zaman Bobby, Syedpur Upazila Jubo League Convenor Dilnewaz Khan were present in the rally.