Bangladesh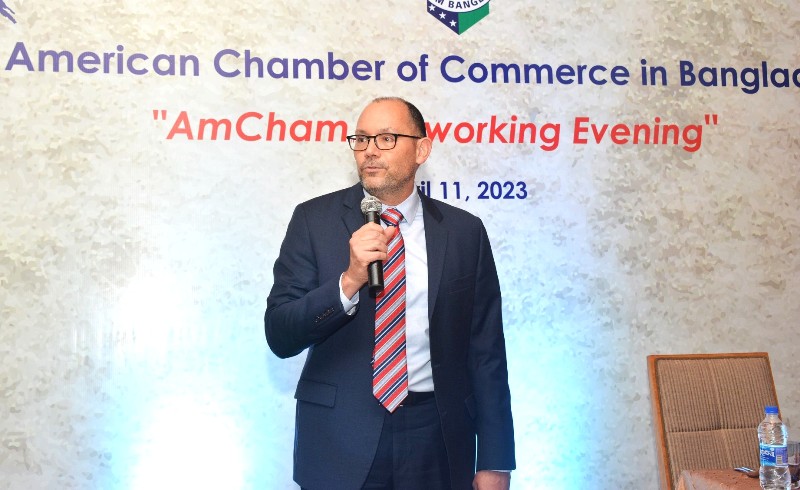 www.facebook.com/bangladesh.usembassy
US diplomat Peter Haas holds meeting with Awami League-BNP-JaPa on visa policy
Dhaka, May 25: US Ambassador to Dhaka Peter Haas held a two-hour meeting with the representatives of Awami League, BNP and Jatiya Party (JaPa) regarding the new US visa policy. Sources of the meeting said that various political and economic issues were discussed.
The meeting was held at the residence of Ambassador Peter Haas in Gulshan of the capital on Thursday (May 25) from 12:15 to 2:15. Leaders of three political parties confirmed this information.
In the Awami League delegation, the information and research affairs secretary of the party, Dr. Salim Mahmud, member of the central executive committee, Mohammad A. Arafat, were in the delegation. On the other hand, party standing committee member Amir Khosru Mahmud Chowdhury and organizational secretary and international relations committee member Shama Obaid participated in the meeting on behalf of BNP.
Apart from this, party secretary general Mujibul Haque Chunnu and retired Major Rana Mohammad Sohail, Member of Parliament of Nilphamari-3 Constituency, were present in the meeting on behalf of JaPa.
Political and Economic Counselor of the US Embassy in Dhaka, Scott Brandon, Political Officer Matthew Bay were present in the meeting among others.
JaPa Secretary General Mujibul Haque Chunnu said, "This meeting was called to inform about the new announcement made by the American Foreign Minister on visa. He (the ambassador) has officially informed us about the new visa policy of the United States for Bangladesh. He also wanted to know our opinion."
"We support free and fair elections. The new visa policy to restrict visas to those who undermine the democratic process applies to everyone." Ambassador Peter Haas met today with representatives of the Bangladesh Awami League, Bangladesh Nationalist Party-BNP, and #JatiyaParty," read a post on the verified Facebook page of the US Embassy in Dhaka.
On Wednesday (May 24) night, the US Embassy in Dhaka announced a separate visa policy for Bangladesh in a statement. The US State Department said it would impose visa restrictions on people responsible for or involved in obstructing the democratic election process in Bangladesh.